THE BERLUTI WINTER 2020 COLLECTION
Electric colours, rebellious details and state-of-the-art techniques meet classic cuts and heritage patterns in a collection that's all about finding harmony in contrasts.
Berluti's Winter 2020 collection is conceived by Kris Van Assche as a visual dialogue between tradition and change. Searching for a new, free spirited take on the timeless codes of masculine dressing, the Maison's Artistic Director comes to a purposefully eccentric conclusion where formal suits take on vibrant shades of ultraviolet, lapis blue and lime green, knitwear treads the line between functionality and fashion statement, and seemingly classic outerwear turns out to be, upon closer inspection, the result of uniquely innovative techniques.
Leather is ubiquitous in the collection, used in all but obvious ways. The patina suit - a Berluti trademark for the past few seasons - keeps evolving, softening and refining. Offering a contrast between two patina colours - with the darker closer to the seams and edges -, it stands as a classic piece revisited with the Berluti touch.
A blue calfskin Bomber jacket premieres a new patina spot technique that randomly adds some ink to the blue calf hair. A lightly grained black elk leather jacket is an exercise in suppleness and the perfect understated piece to mix and match with the more colourful garments of the collection. Overblown, deconstructed and weaved from thin leather bands, a Prince of Wales pattern becomes radical. Entirely hand-weaved in lime green and black using an outstanding leather technique, it takes the shape of a one-of-a-kind coat. The same pattern, made in double face virgin wool, finds its way into Berluti's iconic "B-Way", turning it into a statement jacket with a lapis blue interior. Slightly oversized, it is the ideal outerwear piece to wear on top of a formal jacket.
Eye-catching, high energy tones and New Wave winks elevate the suits: trousers become larger; jackets are double breasted. Worn with second skin roll necks in fluorescent tones instead of a shirt-and-tie, they take on an uncompromising modernity…
Without ever losing sight of the unique charm that comes with heritage. Proof? A Prince of Wales jacket is made in a traditional full canvas construction, with padded shoulders and wide lapels. And a black suit mixes classic stripes with an all-over SIGNATURE Canvas motif.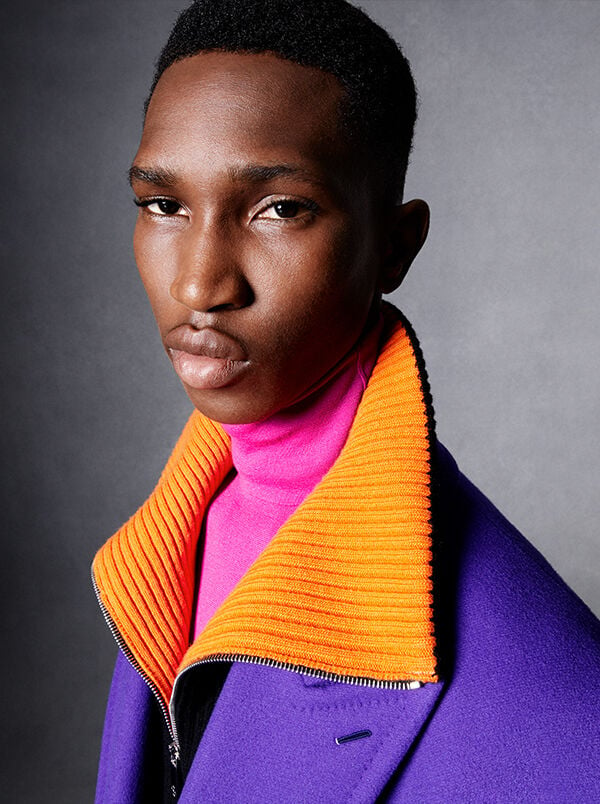 Silk shirts echo the patina spot technique with an ink stain motif, while knitwear graduates from casual staple to all-out statement piece. A jacquard jumper mimics a herringbone pattern with an unexpected mix of colour and three different threads, including an insertion of orange mohair. Another one uses four different plain-coloured virgin wool yarns to create a colorblock, then mixes them for a mouliné effect. An understated rib knit zipped sweater reveals a bright orange collar when opened. Worn under a purple coat, it adds on an unexpected flash of colour to the silhouette.
Accessories are all about functionality enhanced with rich details. A new motif, the SIGNATURE Canvas, joins Berluti's emblematics by revisiting the Maison's crest, with the adding of "Scritto" elements, the letter B and the mention of Paris, and turning it into a monogram printed over a deep black grained surface. Covering the "Aviator" - a practical 24h bag with a generous volume - it becomes Berluti's ultimate new classic.
SIGNATURE Canvas is also featured in this season's luggage, the result of a collaboration with British luxury luggage manufacturer Globe-Trotter that mixes the two brands' know-how by combining Globe-Trotter's compressed Japanese paper shell technique with Berluti's iconic trimmings, including hand patinated Venezia leather handles, corners and straps, and nickel hardware engraved with the Maison's logo.
For day-to-day wear, the "Miles PM" stands out as the definitive bag: including two main compartments and an adjustable leather strap, it is made of alligator hide, the result of an extremely strict selection.
Lengthy and painstaking, the patina process can only be done by Berluti's most experienced colourists, its result at the crossroads between Berluti's inherited know-how and its passion for innovation.