Alessandro Demesure Leather Oxford
Details
https://www.berluti.com/en-gb/alessandro-demesure-calf-leather-oxford-leather-sole/205176.html
Item No. 205176
Price Including Taxes and Duties
Shoes Size Guide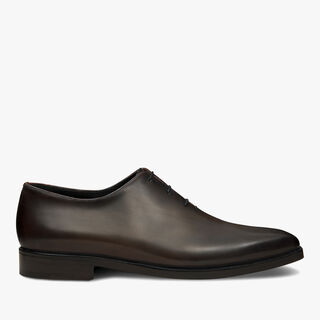 Alessandro Demesure Leather Oxford
Price Including Taxes and Duties
Model available in sizes 5 to 12.5
| Berluti Size | French Size | Italian Size | US Size | Japan Size | Korean Size |
| --- | --- | --- | --- | --- | --- |
| 5 | 39 | 38 | 6 | 24.5 | 240 |
| 5.5 | 39.5 | 38.5 | 6.5 | 24.5/25.0 | 245 |
| 6 | 40 | 39 | 7 | 25.0 | 250 |
| 6.5 | 40.5 | 39.5 | 7,5 | 25.5 | 255 |
| 7 | 41 | 40 | 8 | 25.5/26.0 | 260 |
| 7,5 | 41.5 | 40.5 | 8,5 | 26.0 | 265 |
| 8 | 42 | 41 | 9 | 26.5 | 270 |
| 8,5 | 42.5 | 41.5 | 9,5 | 27.0 | 275 |
| 9 | 43 | 42 | 10 | 27.0/27.5 | 280 |
| 9,5 | 43.5 | 42.5 | 10,5 | 27.5 | 285 |
| 10 | 44 | 43 | 11 | 28.0 | 290 |
| 10,5 | 44.5 | 43.5 | 11,5 | 28.5 | 295 |
| 11 | 45 | 44 | 12 | 29.0 | 300 |
| 11,5 | 45.5 | 44.5 | 12,5 | 29.5 | 305 |
| 12 | 46 | 45 | 13 | 30.0 | 310 |
| 12,5 | 46.5 | 45.5 | 13,5 | 30.5 | 315 |
| 13 | 47 | 46 | 14 | 31.0 | 320 |
In 1895, Alessandro Berluti, a trained cabinetmaker and a lover of elegant forms, devised the famous lace-up shoe. Every Berluti generation since has reinterpreted this invention, and the shoe has changed imperceptibly over the years. The lace-up shoe, an historic and emblematic model made from a single piece of leather, without any visible seam, has come to symbolise Maison Berluti and is the purest expression of its uncompromising style. The Démesures version of the Alessandro is one of the oldest versions of the model. First introduced in 2006, the Alessandro Démesure fits all feet. It bears the distinct, sophisticated details inspired by Berluti's Bespoke offer: coloured linings and shoetrees, patinated soles and hand-wrought "Berluti" ankle motifs. An icon of the Maison.
Alessandro Demesure Leather Oxford
Price Including Taxes and Duties
Three-eyelet lace-up shoe
One piece of leather
Linings, soles and shoetrees with contrasts
Hand-tooled 'Berluti' signature adds an elegant finish to the sole
Construction : Blake
Shoetree included
Permanent Collection
Made in Italy
Last : Demesure
Reference : S1412-V1
Last : Demesure
Model available in sizes 5 to 12.5
Venezia Calf Leather - Patinable
Venezia leather care begins with removing any dirt using a soft cloth, followed by the application of a wax of the right color to nourish and protect the leather. Then rub vigorously with the polishing glove to shine it.