Details
https://www.berluti.com/en-us/leather-champagne-bucket/290988.html
Item No. 290988
Holiday Gifts Size Guide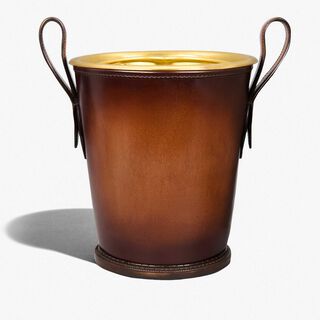 Leather Champagne Bucket
Dimensions
Height : 26 cm
Length : 26 cm
Diameter (base) : 15,4cm
Venezia leather bucket cover with two handles
Welt construction base
Black microfibre lining
Berluti heel signature on the sole with rubber pad
Removable double wall brass bucket
Handle with refined B-shape
Winter 23
Made in Italy
Reference : CHAMPAGNE_BUCKET-LEATHER-V27
Dimensions
Height : 26 cm
Length : 26 cm
Diameter (base) : 15,4cm
Venezia leather care begins with removing any dirt using a soft cloth, followed by a clear leather wax to nourish and protect the leather. Then rub delicately with a polishing glove to restore the leather's original luster.
Before applying wax on leather, make sure to protect the other elements.
In case of contact with liquid, absorb it immediately with a dry cloth.

Brass should be cared for using a non-abrasive brass cleaner or mild soap and water.
Always make sure to wipe off with water and dry your item completely after cleaning.
Do not use any products that contain alcohol, it could damage the finish.