The shirt:
it's all about
the details
The shirt is an essential of every man's wardrobe. And at Berluti, the choice is vast indeed!
From the classic white shirt in Egyptian cotton poplin (the world's most luxurious cotton, with very long fibres, giving it long-wearing durability, softness and sheen) to the thicker, oversized denim shirt, from solid to striped, in cotton of 135-gram weight, 140-gram (twill), 183-gram (chambray), 206-gram (oxford), or in fine corduroy, wool or cashmere. There is a multitude to choose from, with or without pocket, slim-cut or tailored, initials embroidered in Old-English lettering or sans-serif font – the combinations are endless. Because when it comes to shirts, details are everything. And the most important of these details is the collar, for the collar makes the shirt!
There are two main families of classic collars: the pointed collar and the spread collar. Select your collar based on your attire, the occasion and the shape of your face.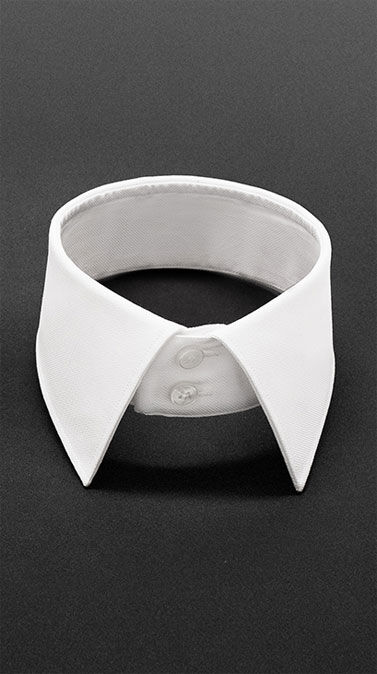 The pointed collar, the most classic, has a relatively narrow space between the collar points. This is the most traditional collar type: it is found on both formal business shirts and more casual shirts. It can be worn with or without a tie. The pointed shape tends to lengthen the neck and face.
The spread collar differs from the classic, pointed collar by virtue of the wider opening between the collar points. It gives the shirt a style that is not as strict as the classic pointed collar, while retaining distinctive elegance. Once buttoned, however, it must be worn with a tie that is wide enough to fill the space of the spread between the points. For a more casual look, it can also be worn without a tie. Though it works well with longer faces, this collar style should be avoided if you have a thick neck.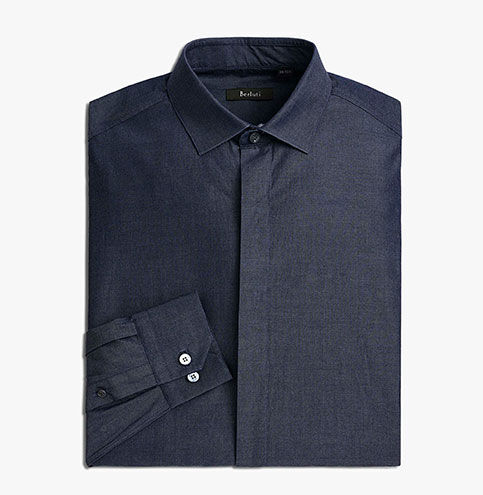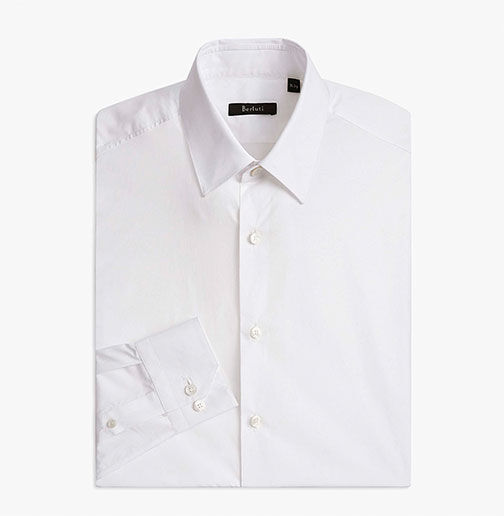 Lastly, the slim collar is the newest look this season. It is a narrower spread collar, without stays and with a point measuring about 4 centimetres. On a more casual shirt, in black, white or navy cotton poplin, with a very slight two-tone effect between the sleeves, collar and the rest of the shirt, it adds a nonchalant elegance that is quintessentially Berluti.