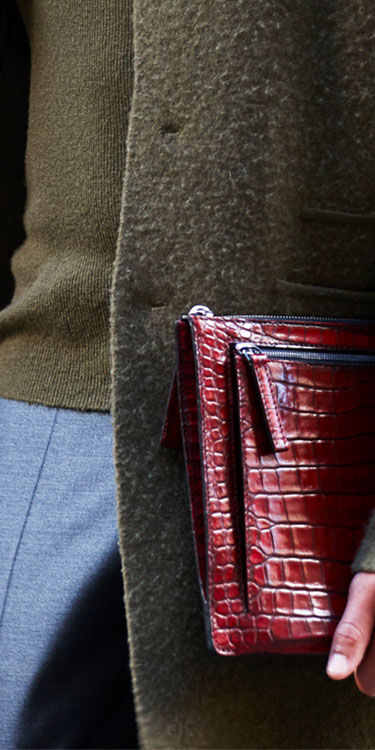 Have you
seen the
neo-wallets?
These neo-wallets make it possible to bring along all the items you need, without cluttering your pockets and creating unwanted bulges in your clothing. What's more (and perhaps what's best), you can customise them with our patina and hot stamping services. The choice of patina is almost infinite: you can select from a colour palette of more than thirty shades. In this range of subtle variations, certain tints are emblematic of the spirit of the Maison. And the French names are so evocative! Autumn leaf, caviar, Saint-Emilion red, nero griggio, or the famous Tobacco brown, homage to the warm amber tones of the first Alessandro created in 1895. Your patina choice and our hot stamping your initials make your wallet completely unique. Here is our selection.
THE 2-IN-1 WALLET
Its twofold use makes it one of the Maison's bestsellers. A simple wallet that also holds a flat, slip-in cardholder, so you can carry the essentials for a meeting or date discreetly in the pocket of your suit or coat.
THE POCKET ORGANIZER
This item, which slips easily into your business portfolio and zips along the length of its very modern vertical design, can hold more than twenty cards, ID, auto registration, entry badge – and also has a gusseted pocket and a zippered coin purse.
THE ALL IN ONE
A star accessory in the Winter 2017 collection, this wallet is crafted from a single piece of leather with a folded edge, proof of the savoir-faire to be found at Maison Berluti and ensuring a streamlined, refined appearance. It comes in Toro or Venezia leather, boasts the brand-new "BRLT" logo, a horn plectrum, and a leather strap that lets you hang it wherever you wish – through a belt loop, inside a computer bag, or even for hand carrying. For a very studied, relaxed look.