Paris, Front de Seine
Metallic shades, natural textures and a cool attitude define this season's Berluti Collection, where the Maison's DNA and innovation meet through twisted classics.
Somewhere between modernity and timelessness sits Berluti's Spring 2020 Pre-Collection. Exploring the Maison's DNA and know-how, revamping some if its signature styles and featuring a rich palette of ice grey, lead, chestnut brown and burnt orange, Berluti's latest offering pays homage to the adventurous spirit of contemporary masculinity.
For the first time, the patina process - traditionally used on shoes and leather goods - is applied to Vitello Fiore outerwear. A tan Perfecto jacket stands out as an artisanal masterpiece that will acquire a unique patina over time. A hooded leather jacket infuses luxury tradition and streetwear attitude. A cashmere field jacket with a classic shape is bonded with a membrane to render it water-repellent. Under a formal appearance, a comfortable double-face knitted coat hides a Scritto Jacquard pattern on the inside. Created by Olga Berluti and inspired by the art of calligraphy, the same Scritto motif covers a wool jumper in lead grey.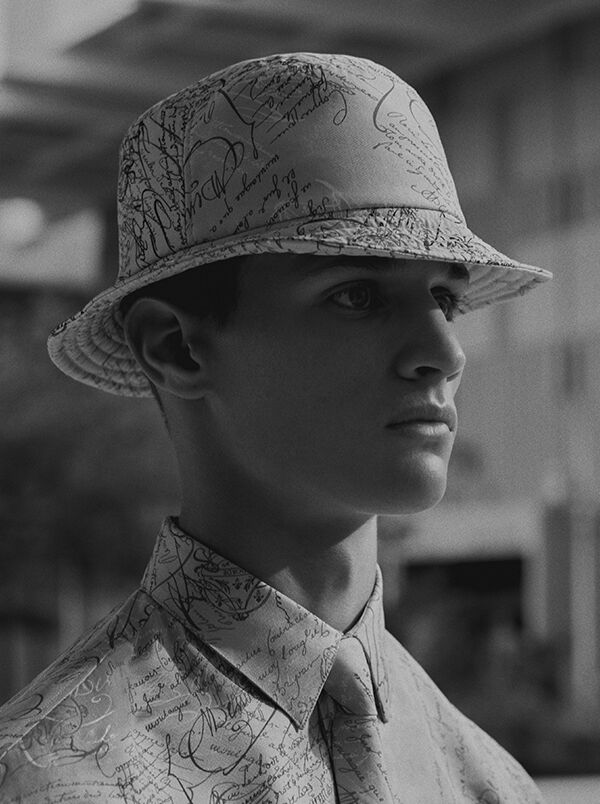 A checked suit with edgy, generous proportions contrasts with a sleek, sculptural "Alessandro" jacket in metallic tones with a full canvas construction and a Scritto lining. A short-sleeved écru bowling silk shirt with a colourful Scritto print is the cherry on top. The emblematic "Alessandro" shoe - originally designed by Alessandro Berluti in 1895 and crafted, ever since, from a single piece of leather with no visible seams - is reworked with an angular Edge last. Named "Patchwork", it mixes Venezia leather and glazed calf with a smooth semi-gloss finish and includes a playful stud detail on the upper.
Combined with formalwear, sneakers have the power to transform any look: "Stellar" mixes a pared-down essentialism and a minimal, sculptural shape with a bottier attitude and a laser-engraved Scritto detail. Conversely, the fashion forward "Gravity" takes on a daring burnt orange Vitello Opaco leather, a technical rubber sole and nylon mesh details.
Season's bags include the new "Contraste" briefcase in classic Venezia blended with Vitello Vento, a soft leather with a visible grain. Its understated chic and functional, compact style is mimicked by the "Messenger Mini", which can be worn cross-body with a removable nylon strap. All about casual chic, "Time Off" is the newest addition to Berluti's backpack collection. Crafted from Venezia leather with an Ice Brown patina and Vitello Vento on the back, it includes a generous storage capacity complete with two mesh pockets and a padded compartment to fit a computer. A must have in any man's wardrobe.