THE BERLUTI FALL 2020
PRE-COLLECTION
A versatile wardrobe is at the core of the Fall 2020 Pre-Collection by Kris Van Assche. As comfortable in classic heritage pieces as he is in trendy, innovative ones, the Berluti man proves modern timelessness is inseparable from true chic.
This season's focus is on mixing and matching different styles. Berluti's latest collection includes a variety of technical fabrics and borrows cuts and details from classic military garments, filtering them through the Maison's unique savoir-faire and identity. The result is an array of exceptional, timeless pieces.
Functional, eclectic and light, outerwear is always easy to wear. Parkas - knee-length or short - take on the large pockets and zip details of a modernized field jacket and mix cotton and nylon with Scritto-embossed leather elements. A classic raincoat's technical fabric makes it water repellent and exceptionally light, while a formal double-faced wool and cashmere coat is deconstructed to make it softer and more comfortable.
Leather is ubiquitous, taking a down jacket from classic to one-of-a-kind thanks to its embossed details and exclusive nylon-and-wool fabric. Quilted lamb leather is the star material of a raincoat and a short jacket featuring military-inspired details. Leather jackets go from the patina blouson with an elasticated hem and the shearling-collared, supple deer skin aviator jacket - the ultimate Berluti pieces - to the statement-making patchworked jacket with a bonded membrane and the nubuck suede perfecto with a brand new "Deep Sea Blue" hand-applied patina effect.
A teddy jacket mixes wool gabardine and leather sleeves with embossed Scritto, and features terry cloth logo patches.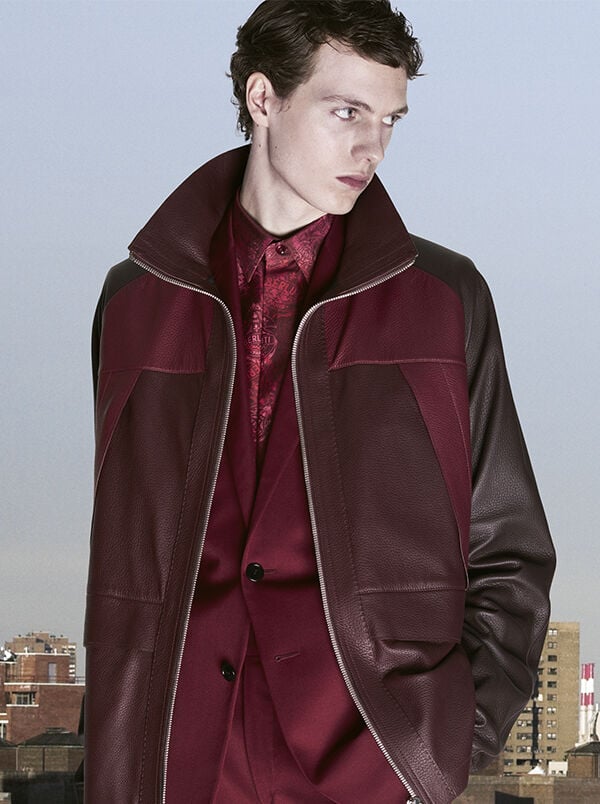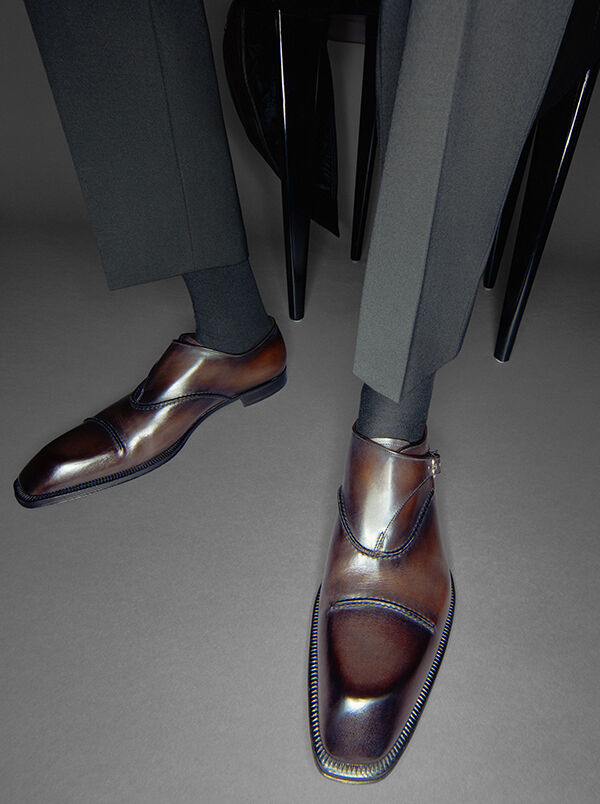 Leather is also the star of the season's patina suit, made from calf skin and complete with an Ice Black patina blending grey and black tones. Elsewhere, tailoring oscillates between the formal and the casual, and while the sleek Alessandro suit - worn over a silk shirt with an all-over Scritto print - takes on a vibrant cherry shade, a new half-canvas construction travel jacket in naturally wrinkle-free virgin wool can be paired with jogging-inspired tapered trousers or trendy knee-length cargo trousers in Prince of Wales with nylon details. Nylon yokes are also inserted in a military-inspired soft cotton overshirt-and-trousers set.
Casual ready-to-wear pieces creatively embody Berluti's DNA: a beige military shirt with patch pockets and a virgin wool sweater with pearl rib stitch details are embroidered with terry cloth logos mimicking military badges. Featuring a Scritto jacquard motif, Fairisle sweaters in a wool, cotton and silk blend become statement pieces. A leather crest is applied to a comfortable neoprene hoodie, and jersey tee-shirts are decorated with Berluti's logo. Even raw denim pieces include an all-over Scritto print on the inside, revealed only when the jeans or jacket sleeves are rolled up.
Alongside Berluti's emblematic "Alessandro" shoe, made out of a single piece of leather with no visible stitches and embossed with a Scritto Swipe motif, this season's formal shoes comprise "Démesure", a lace-up with a diagonal stitch; "Andy" loafers (originally created in 1962 for Andy Warhol) with a Scritto-embellished strap and "Arthur", a new monk buckle shoe with stitching details on the top, treated with an "Ice Black" patina. An unapologetic fashion statement, the new "Camden" creepers are inspired by rock & roll culture and feature a chunky rubber sole and a square last, coming in Oxford and lace-up boot forms, both in a delicate grained Venezia leather. "Gravity" sneakers are the perfect leisurely choice, with two new variations: a high-top sneaker with a scratch strap - available in the edgy matte texture of Vitello Opaco leather and in "Deep Sea Blue" patinated grained Venezia -, and a low one inspired by classic outdoors shoes.
This season, Berluti is unveiling its new SIGNATURE Canvas, a coated cotton material printed with a Scritto-inspired motif and a crest. A knowing wink to Berluti's rich heritage, it is featured in "Odyssée", a functional travel sailor bag with Venezia leather details, as well as the messenger "Escapade", the "Explorer" backpack and the versatile tote "Ulysse", perfect for business and casual moments. The ultimate 48-hour bag, "Aventure", takes on a Venezia Gloria leather - as supple as nappa and as solid as classic Venezia - and a vivid "Deep Sea Blue" patina. Iconic Berluti bags this season span from the "Journalier" messenger with a full Scritto motif and an "Ice Black" patina, ideal to carry essentials daily, the vertical "Toujours" and the classic "Un Jour" - which, fitting a 15 inch laptop, is the ultimate business bag -, to the trendy and comfortable "Balade" cross body bag in Venezia Gloria and the "Day Out" backpack. Discreetly decorated with a Scritto Swipe and complete with a flap drawstring closure and an "Ice Black" patina, it embodies Berluti's idea of a modern classic.