Eden Scritto Leather Slip On
Details
https://www.berluti.com/en-us/eden-scritto-leather-slip-on/236471.html
Item No. 236471
Sneakers Size Guide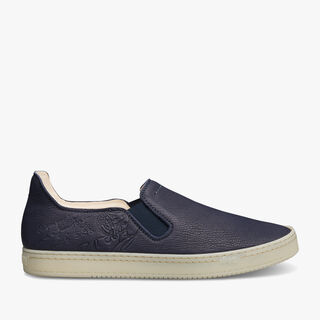 Eden Scritto Leather Slip On
Model available in sizes 5 to 12.5
| Berluti Size | French Size | Italian Size | US Size | Japan Size | Korean Size |
| --- | --- | --- | --- | --- | --- |
| 5 | 39 | 38 | 6 | 24.5 | 240 |
| 5.5 | 39.5 | 38.5 | 6.5 | 24.5/25.0 | 245 |
| 6 | 40 | 39 | 7 | 25.0 | 250 |
| 6.5 | 40.5 | 39.5 | 7,5 | 25.5 | 255 |
| 7 | 41 | 40 | 8 | 25.5/26.0 | 260 |
| 7,5 | 41.5 | 40.5 | 8,5 | 26.0 | 265 |
| 8 | 42 | 41 | 9 | 26.5 | 270 |
| 8,5 | 42.5 | 41.5 | 9,5 | 27.0 | 275 |
| 9 | 43 | 42 | 10 | 27.0/27.5 | 280 |
| 9,5 | 43.5 | 42.5 | 10,5 | 27.5 | 285 |
| 10 | 44 | 43 | 11 | 28.0 | 290 |
| 10,5 | 44.5 | 43.5 | 11,5 | 28.5 | 295 |
| 11 | 45 | 44 | 12 | 29.0 | 300 |
| 11,5 | 45.5 | 44.5 | 12,5 | 29.5 | 305 |
| 12 | 46 | 45 | 13 | 30.0 | 310 |
| 12,5 | 46.5 | 45.5 | 13,5 | 30.5 | 315 |
| 13 | 47 | 46 | 14 | 31.0 | 320 |
Crafted from a single piece of exceptionally supple leather and a rubber outsole and available as a slip-on or a lace-up, Berluti's lightweight, ultra comfortable new informal shoe acts as a second skin to add the perfect laid-back touch to a chic Summer look.
Eden Scritto Leather Slip On
Slip-on
Incollato with lateral stitching construction
One cut upper with embossed Scritto
Hand-stitched detail at the back
Padded tongue and insole
Rubber outsole
Natural color leather lining and insole
Construction : Incollato
Summer 2022
Made in Italy
Last : Eden
Reference : S5752-D2
Last : Eden
Model available in sizes 5 to 12.5
Deerskin Leather
Calf leather lining
To clean the deerskin a slightly damp white cotton cloth with neutral soap. If the shoes take the rain, dry them naturally without exposing them to heat sources, such as the sun or radiators. If the leather is exposed to water, it may leave small marks which can be removed, when the skin is dry, rubbing with leather eraser.