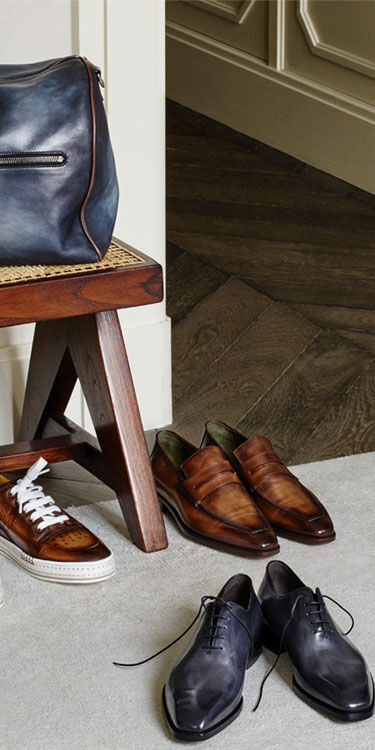 How many
pairs of shoes
should I own?
The traditional rule of elegant dressing recommended seven pairs of shoes, that is, as many pairs as there are days of the week.
Does that rule still apply today?
SEVEN PAIRS OF SHOES,


THE IDEAL NUMBER?
The 7-shoes-for-7-days recommendation is now old fashioned, but it is based on irrefutable good sense, which is always in style. Shoes should rest between each wear to prolong their life. Therefore, it is best not to wear them two days in a row. After wearing your leather shoes, insert shoe trees inside. Leather is, in fact, an organic and therefore dynamic material, sensitive to its environment, humidity, pollution… so it has to breathe!
LOGICAL ELEGANCE
Today, beyond this basic rule, what should determine your collection of shoes is your wardrobe, the season and the occasion. Loafers for the spring, boots for the winter, Derbies or Oxfords at the office, etc. There is also the rubber sole to consider, a good choice for all weather. And finally, there is your own style. Berluti proposes an almost infinite palette of patina colours to match your boldest desires, offering daring combinations and striking details. To be prepared for every eventuality, here are a few models that every elegant, well-shod man should possess.
A PAIR OF OXFORDS
Oxfords are essential to an elegant wardrobe. They are the classic shoe par excellence, recognisable by its 'closed' laces. The facing is part of the vamp, the shoe's upper portion, and opens only slightly, forming a 'V' to allow the foot to slip into the shoe. Once the shoe is laced up, the two edges of the facing touch. This detail gives the shoe its formal look.
The storied Berluti Alessandro lace-up was first created in 1895 by Alessandro Berluti, the founder, and has evolved over time. Made from a single piece of leather without visible stitching and with contrasting green or violet lining and soles (and even contrasting shoe trees), the Alessandro has clean lines that give the design its elegance and comfortable wear. A pair of Alessandros, whether you choose Capri, Démesures or Galet, marries magnificently with a suit or straight-leg trousers, extending the line of the leg.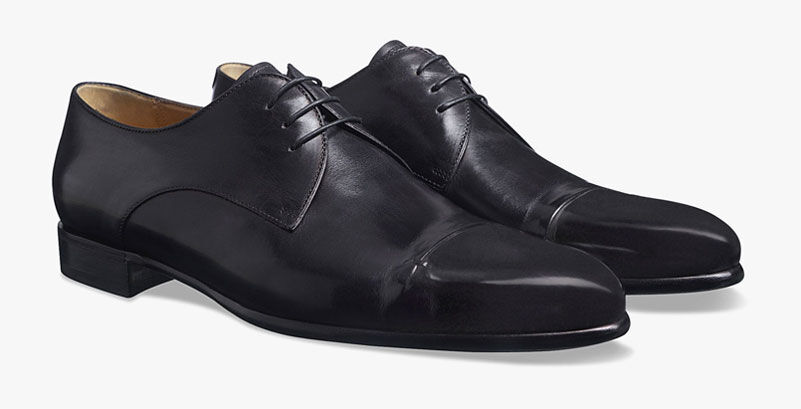 A PAIR OF DERBIES
Originally, the Derby was considered less formal than the Oxford because of its open lacing. The laces were in fact threaded into quarters sewn over the vamp, which could be lifted to allow the foot to slip into the shoe. However, this hierarchy no longer applies at Berluti. The Derby is just as elegant and pairs very well with a formal suit. A perfect example is the Gaspard Capri, which has a refined classic shape and great style. The straight toe cap is inspired by the famed slashed canvases of the Italian painter Lucio Fontana, and is set off by a two-toned patina, giving it greater depth.
A PAIR OF BROGUES
Born in Northern Ireland, the brogue shoe was created as an outdoor walking shoe. Originally made from several pieces of leather, its perforations (brogueing) allowed rain and mud to drain.
During the 19th century, the shoe found favour among the English aristocracy, and kept its perforations for decorative purposes. This touch of British style is reinterpreted by Maison Berluti on several models of Derbies, a classic of men's wardrobe. For example, the James Ellipse model, a 'full brogue' shoe with its perforated leather wingtip forming a point, recalls the shoe's origins. It is a shoe that unites tradition and modernity with its nero grigio or tobacco patina Venezia leather. A solid and wear-resistant model for winter thanks to its Goodyear construction, its thick sole and its rubber half sole.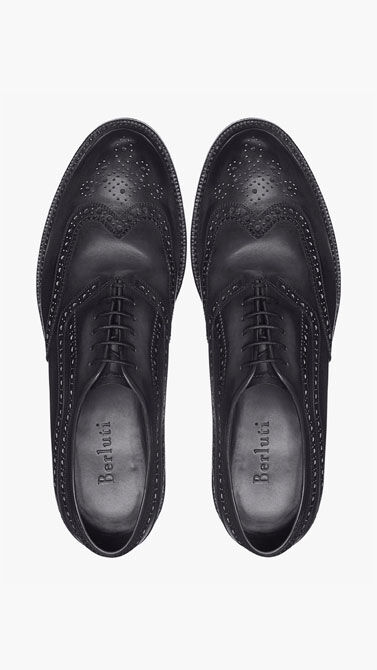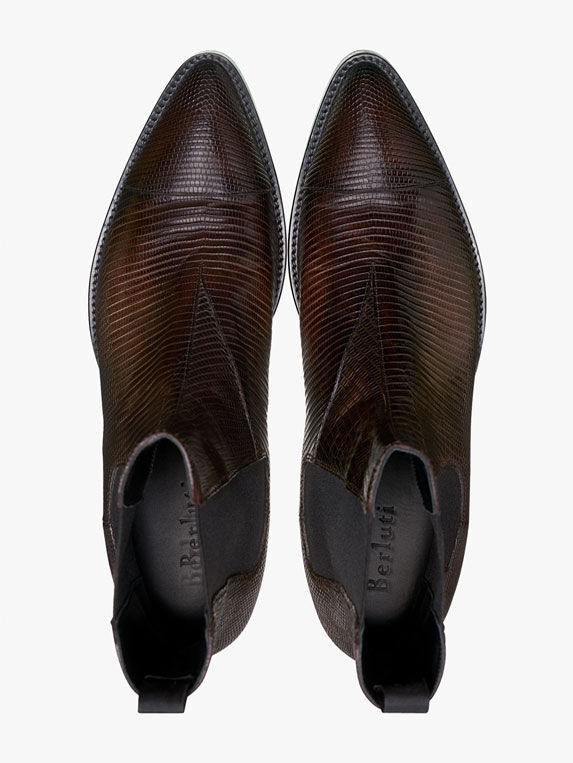 A PAIR OF BOOTS
This is another staple of the men's wardrobe. Boots pair marvellously with tailored trousers, jeans or a pair of chinos, but also a suit. They work well for the city and for weekend jaunts: if you opt for rubber soles, the shoes will put up with all kinds of weather and will be your first choice for all your travels, whether first class or all terrain. For example, the Heith ankle boots are the archetypal boot of the Fall-Winter collection with its geometric lines, its rubber half soles, and its bold, pointed toe set off with decorative stitching. This pair of boots brings a modern touch to the silhouette.
Available in black Glazed Calf leather or in lizard skin for Rock n' Roll style, or in a more classic Venezia leather.
Another option is the Classic Capri, a reinterpretation of the celebrated Chelsea Boot, which was adopted by the Mods of the 1960s. It goes well with everything; they can be worn with a suit or formal trousers, but also with a pair of jeans for a more casual look.
A PAIR OF SNEAKERS
No longer are sneakers confined to the gym! They have formally joined the men's wardrobe, to be worn with almost everything. Obviously, they go well with a pair of jeans or chinos, but also a not-too-formal suit, cut in a textured fabric, or even a sweater or cardigan. Take care with the width of the trouser. Wide-leg trousers are to be avoided. Under no circumstances should the back of your trousers catch in your sneakers! In fact, you can opt for a slightly shorter trouser length or pin roll the leg opening, to better show off the stitching details of your sneakers.
For example, there is the Playfield: inspired by vintage 1960s tennis shoes, with a padded toe vamp (for greater flexibility), neat-edge stitching at the heel and reinforcement stitching by hand, which are signs of master shoemaking. As for the closures, colour and materials, it's up to you. Laced, meteorite (navy) or bourbon Venezia leather; Velcro in white, Bordeaux or grey Venezia leather; or Vitello sport leather with a slightly matte finish in black or white; or the ultra-sophisticated version in natural or black alligator or lizard skin.
AND ALSO...
And of course, a pair of Andy Démesure loafers, evening dress shoes… A list that goes as far as your desires!