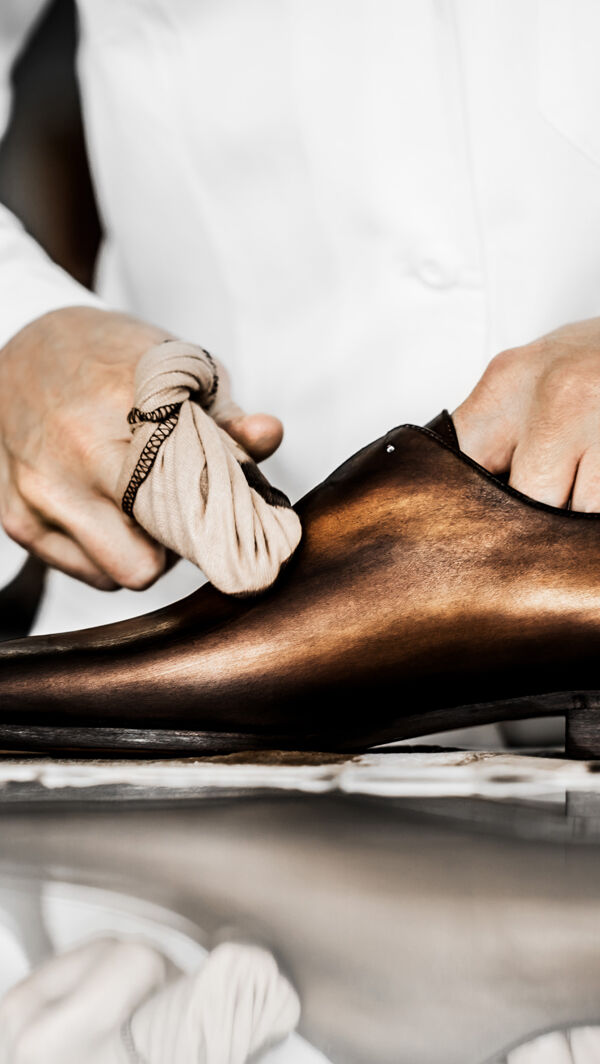 Creating while respecting nature
Because they are timeless, Berluti products are intended to be sustainable. Respect for the environment and the preservation of natural resources are the Maison's priorities at every stage of their life cycle. Their design requires materials selected according to the most demanding criteria, crafted in such a way as to reduce the volume of material used, while limiting waste.
Scrap leather, metal, fabric and wood are recycled or redistributed for other purposes. In stores, plastic has completely disappeared from customers' packaging, which now favors paper and cardboard from eco-managed forests as well as recycled materials.
In stores, customers' packaging is simple, elegant and respectful of the environment. Plastic has been completely abolished. The cardboard is certified FSC*, which means it comes from forests that are managed ecologically. The feltbag and cord are made of cotton. In order to preserve natural resources, the proportion of recycled materials (post-consumer waste) used in customers' packaging is increasing. By 2022, it will reach 35% and by 2030, it will be 70%.
*Forest Stewardship Council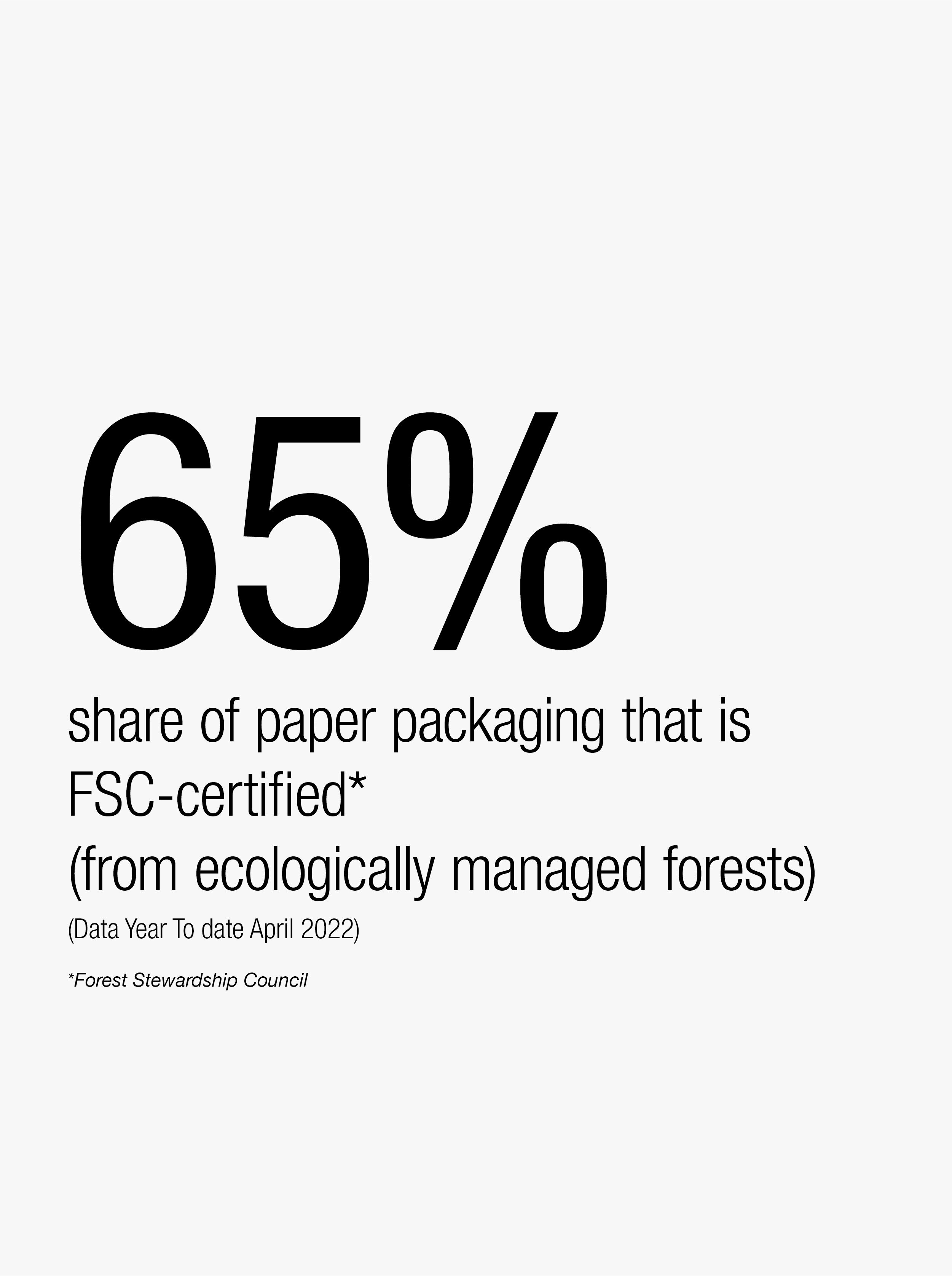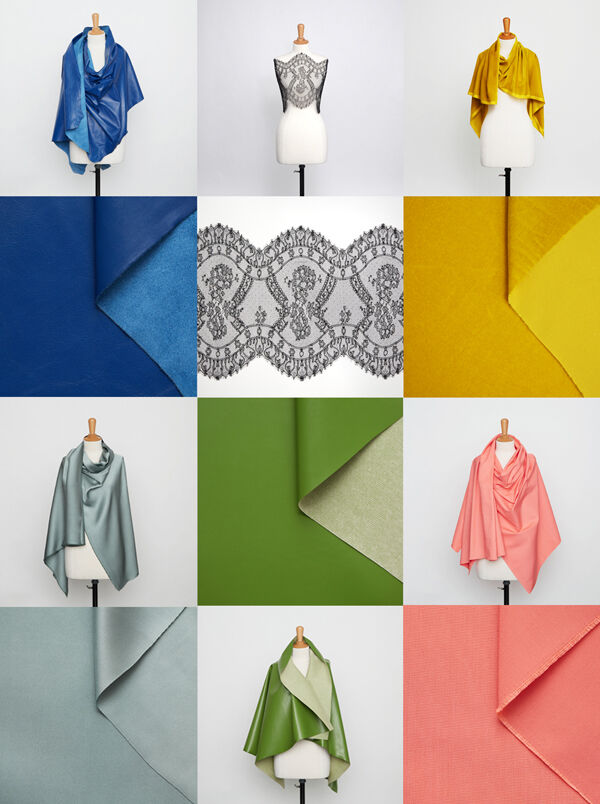 Pulling the thread of the circular economy
Created in 2021 by the LVMH Group to promote the circular economy, Nona Source is the first online platform offering the resale of exceptional materials from its various Maisons. It makes high-end fabrics and leathers from unused inventory available to young designers and brands in Europe. Berluti contributes almost 30% of its yarn scraps and remaining fabrics. This creative solution looks towards a future where fashion is ever more eco-conscious.
Imagining eternal products
It takes several days to craft a pair of shoes, months when they are custom-made. But they are intended to last a lifetime. They are protected by the exclusive tanning of our leathers and the meticulous care given to their patina. Regularly maintained, polished with wax and nourished by their owner or in one of the Maison's stores, the shoes stand the test of time, maturing like fine wine. At the slightest snag, at the appearance of traces of wear on the sole, the craftsmen in the workshops are able to restore the damaged part, giving the shoe the eternal character of a precious jewel.
Quality is the outcome of absolute care. The choice of the most noble materials, the 250 operations necessary to make a pair of custom-made shoes, the attention paid to each step by the Master Bootmaker mean that they are durable objects by essence. However, regular maintenance remains the key to giving them a long life. Taking care of them yourself, following this online tutorial, is a delight for the senses. Berluti also recommends that its customers visit the store at least once a year to have their shoes restored and keep them looking their best.
Custom-made shoes are not the only items that can be refurbished. Whether leather goods or ready-to-wear, Berluti's goal is to make every item repairable. Even some sneakers can now be resoled. The process of using components from unsold products in after-sales service is underway.
62% of items in the Berluti catalog are repairable. By 2030, this proportion will increase to 85%.
A second life for a second chance
Since January 1, 2022, the French law known as AGEC (against waste and for the circular economy) prohibits the destruction of unsold non-food items. The Maison Berluti offers these items a second life by donating them to selected charities, recycling them or upcycling them, i.e. transforming them into new items. The impact is both ecological and social, because the associations concerned help the people they employ reintegrate the world of work. The Maison intends to take advantage of the experience it has accumulated in France to share it in the other countries where it operates by 2030.
Donations to help people return to work
La Cravate Solidaire's mission is to strive for equal opportunities. This French network of associations fights against discrimination in recruitment. It restores confidence to those who need it by helping them to fit in with the culture of the company. Meanwhile, Agence du Don en Nature helps the most disadvantaged people in France by distributing new non-food items. These are the two organizations to which Berluti has chosen to entrust a portion of its unsold items. Eventually, after they have been anonymized, more than half of them will be redistributed and other initiatives will be carried out internationally.
Promoting integration through upcycling
Tissons la Solidarité brings together 70 French professional integration organisations. Their main occupation involves collecting, sorting, transforming and selling textiles. Nearly 1,900 employees, 83% of whom are women, receive guidance towards finding employment. Berluti has chosen this network to recycle some of its unsold goods. After a successful initial test in 2021, the proportion of unsold goods that are upcycled or recycled will increase, and is set to reach 30% by 2023.
Recycle rather than throw away
During the various manufacturing processes, it is not always possible to use all the raw material. Some unused components may become obsolete. Berluti is committed to recycling almost all of them by 2030. Currently, 65% of its leather scraps are already transformed into fertilizer. In the future, soles, metal parts, linings and zippers will also be given a second life.