An essential aspect of the Berluti lifestyle, furniture has been designed by the Maison since the 1960's, when Talbinio Berluti first created the Club Chair, meant for optimal comfort and perfect foot placement during the shoe fitting process. The Venezia leather armchair quickly became a fixture in Berluti stores, beloved by clients who eventually started placing special orders for it. From 2015, the furniture and lifestyle offering began to gradually grow and develop, with the addition of tables, ottomans, sofas and, ultimately, objects and games including a table football and a pool table.
Inspired by its craftmanship history and by its clients' gusto for design, Berluti has now created an enriched, harmonised collection with a focus on contemporary design. Comprising two distinct lines - Marbeuf and Swann -, it is a comprehensive offering that goes beyond men's dressing rooms.
Balanced, prominent and prestigious, the Marbeuf line echoes the first Berluti Club Chairs - presented in the maison's historical Parisian location on 26 rue Marbeuf. It features the newest, most spacious version of the Club Chair, with straight yet supple lines and knowing winks to the emblematic Alessandro shoe: embracing the same no stitching principle, it uses generous Venezia hides that include only decorative stitching. Its exposed legs are made from wood – traditionally used on Bespoke shoe lasts - and their notched details, rim and dovetail joint pay homage to shoemaker artisanship. A matching desk and office chair will also be available at a later date to complete the offer.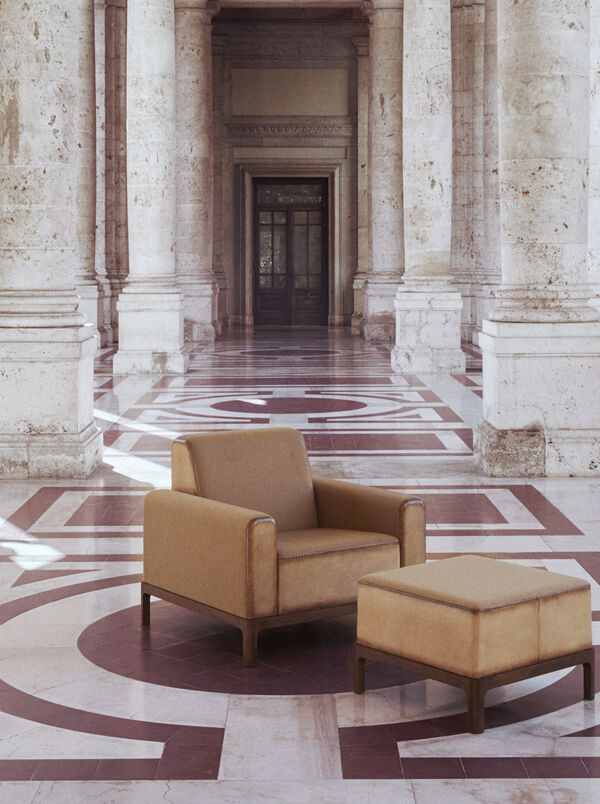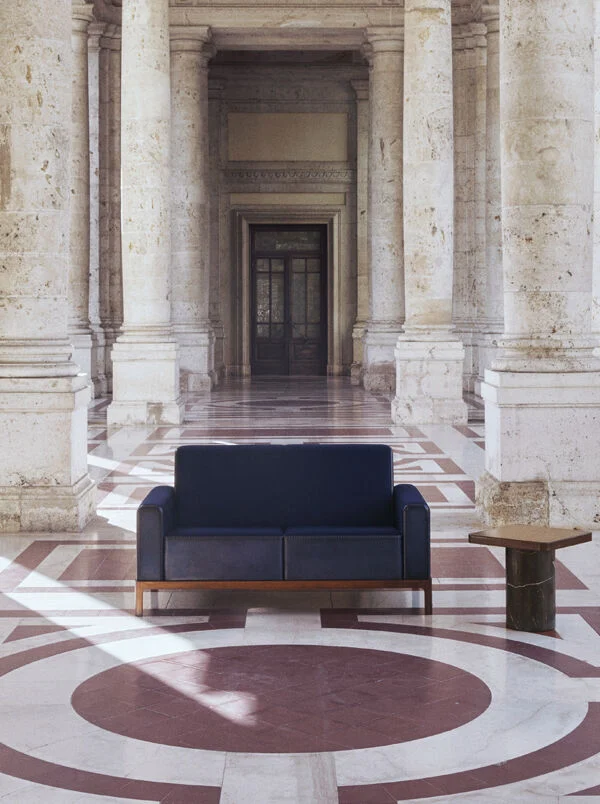 Distinctive, elegant and comfortable, the Swann line is meant for shared living spaces. Its streamlined, aerial, contemporary lines easily blend into all designs, as do its materials: mixing wood and Venezia leather with cashmere or wool, its salon chair, ottoman and two and three seater sofas can be upholstered in smooth Tiepolo wool, or in exceptionally soft, lush Sherpas cashmere. Four tables - a console, two coffee tables and a side table - combining Italian marble and Venezia leather complete the offering.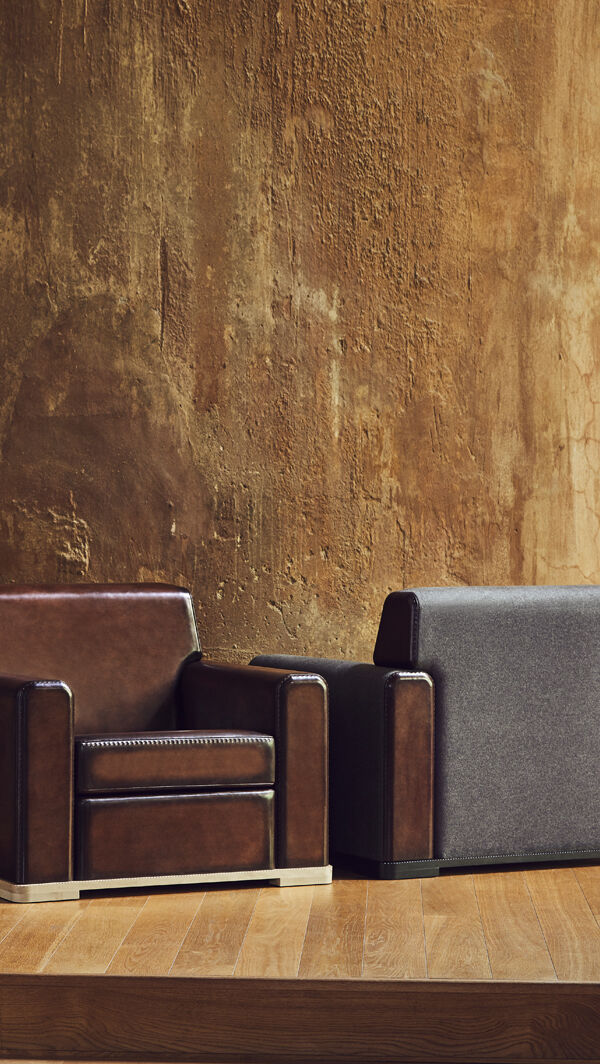 Both Marbeuf and Swann lines offer personalization through a variety of fabric placement choices, colours, patinas and Scritto-embossed details. Various wood essences - which can be natural or dyed in black or brown - are also proposed. A vibrant version of the Marbeuf Club Chair, inspired by the rich colours found in the nature and architecture of the Northern Indian city of Chandigarh - using Utopia Blue, Nespola Orange, Pinjore Garden Green and Sukhna Sunset Purple among other shades -, fully displays Berluti's patina know-how.