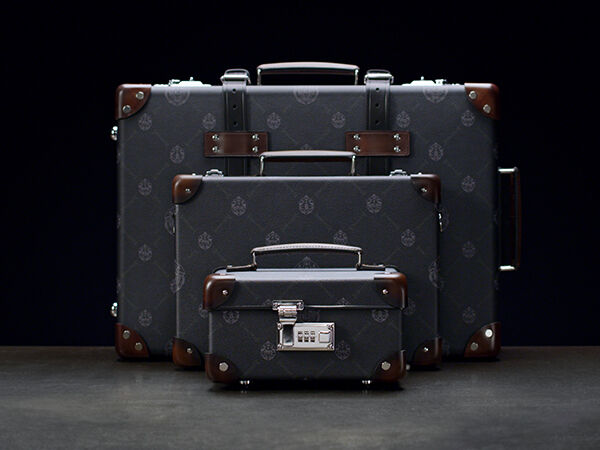 BERLUTI X GLOBE -TROTTER
This season, Berluti collaborates with British hand-crafted luggage brand Globe-Trotter to create a Travel Capsule collection featuring for the first time Berluti's SIGNATURE Canvas
Inspired by the shared artisanal heritage of both houses - Globe-Trotter was founded in 1897, only two years after Alessandro Berluti started his own brand -, Berluti's Artistic Director Kris Van Assche's aim was to create a collection with a shared philosophy. "
At the heart of both our work are quality and a know-how that have remained unaltered throughout history."
Each case is the result of combined expertise, starting with the solid yet lightweight base of Globe-Trotter's luggage - obtained through a process in which 14 layers of Japanese paper are compressed to form an organically-textured shell -, and then completed with Berluti's brand new SIGNATURE Canvas and iconic details, including hand patinated Venezia leather handles and corners, leather straps and nickel hardware engraved with the Maison's logo, mostly assembled with the same set of tools Globe-Trotter has been using since its foundation.
The Globe-Trotter Travel Capsule includes eight hard cases in different formats: 2 rolling suitcases, a shoe trunk holding up to eight pairs of shoes, a shoe care kit case and a watch box, as well as day-to-day accessories such as a messenger bag, a backpack and a briefcase.
The Berluti x Globe-Trotter Travel Capsule will be available at Berluti stores and E-Shop starting May 2020.