TRIANGLE D'OR
The Berluti's Evening Offer, part of the Spring 2020 Pre-Collection, takes centre stage with an array of new luxurious fabrics, a modern twist on classic garments and unique patina details.
This season, Berluti's DNA infuses eveningwear.
A daring palette of dark grey, chestnut brown and equinox black meets some of the Maison's signature elements, including patina and stud details, Scritto motifs and streamlined Alessandro cuts.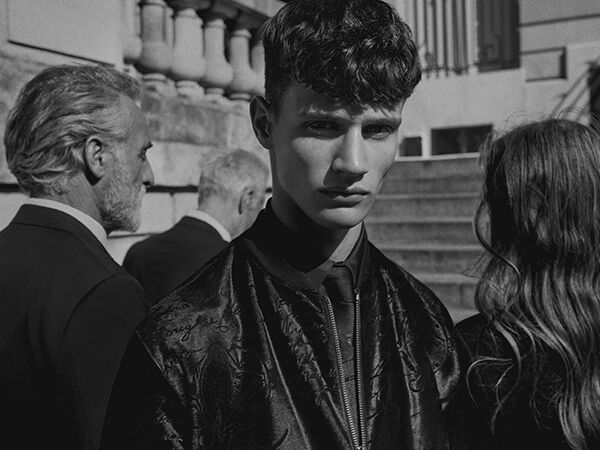 Tuxedoes become state-of-the-art pieces through new, sleek shapes: an "Alessandro" jacket features a leather shawl collar with an embossed Scritto detail, while another one includes a patina leather collar decorated with studs, a knowing wink to bottier know how. Worn with a silk Scritto shirt and tie, it takes on a louche rock & roll attitude.
Tuxedoes get audaciously paired with a calf hair bomber jacket with an all-over flocked Scritto motif, an innovative technique where a Scritto mould is pressed on the hair with a velvet fabric in between.
The result is a silhouette equal parts timeless and provocatively modern.