Cursive Galet Scritto Leather Boot
Details
https://www.berluti.com/en-lu/cursive-galet-scritto-calf-leather-boot/137626.html
Item No. 137626
Shoes Size Guide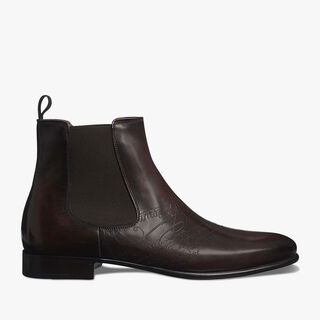 Cursive Galet Scritto Leather Boot
Model available in sizes 5 to 12,5

| Berluti Size | French Size | Italian Size | US Size | Japan Size | Korean Size |
| --- | --- | --- | --- | --- | --- |
| 5 | 39 | 38 | 6 | 24.5 | 240 |
| 5.5 | 39.5 | 38.5 | 6.5 | 24.5/25.0 | 245 |
| 6 | 40 | 39 | 7 | 25.0 | 250 |
| 6.5 | 40.5 | 39.5 | 7,5 | 25.5 | 255 |
| 7 | 41 | 40 | 8 | 25.5/26.0 | 260 |
| 7,5 | 41.5 | 40.5 | 8,5 | 26.0 | 265 |
| 8 | 42 | 41 | 9 | 26.5 | 270 |
| 8,5 | 42.5 | 41.5 | 9,5 | 27.0 | 275 |
| 9 | 43 | 42 | 10 | 27.0/27.5 | 280 |
| 9,5 | 43.5 | 42.5 | 10,5 | 27.5 | 285 |
| 10 | 44 | 43 | 11 | 28.0 | 290 |
| 10,5 | 44.5 | 43.5 | 11,5 | 28.5 | 295 |
| 11 | 45 | 44 | 12 | 29.0 | 300 |
| 11,5 | 45.5 | 44.5 | 12,5 | 29.5 | 305 |
| 12 | 46 | 45 | 13 | 30.0 | 310 |
| 12,5 | 46.5 | 45.5 | 13,5 | 30.5 | 315 |
| 13 | 47 | 46 | 14 | 31.0 | 320 |
Soft and supple, the shape of the Galet perfectly complements the natural form of the foot and respects its individual character: the foot feels utterly at home and naturally comfortable, like a pebble cupped in the palm of the hand. This season, this iconic Maison line is enhanced by the emblematic Berluti signature: the Scritto motif, now available on the upper of the Cursive models. Thus was born this boot, a menswear classic and the perfect pairing of British aesthetics and the traditional shoemaking savoir-faire of Berluti. Stretch bands ensure optimal comfort, making it easy to put on and take off.
Cursive Galet Scritto Leather Boot
Elastic on both sides allows the shoe to adapt to the customer's ankle
Loop makes it easy to put on
Asymetrical Scritto pattern
Poron foam in the insole for more comfort
Construction : Blake
Shoetree included
Permanent Collection
Made in Italy
Last : Galet
Reference : S4077-V2
Last : Galet
Model available in sizes 5 to 12,5

Venezia Calf Leather - Patinable
Venezia leather care begins with removing any dirt using a soft cloth, followed by a clear leather wax to nourish and protect the leather. Then rub vigorously with the polishing glove to restore the leather's original lustre.