Shadow Knit And Leather Sneaker
Details
https://www.berluti.com/en-gh/shadow-calf-leather-sneaker/182635.html
Item No. 182635
Price Including Taxes and Duties
Holiday Gifts Size Guide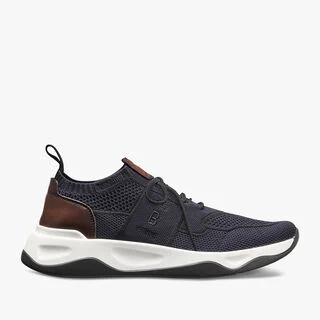 Shadow Knit And Leather Sneaker
Price Including Taxes and Duties
Model available in sizes 5 to 12.5
| Berluti Size | French Size | Italian Size | US Size | Japan Size | Korean Size |
| --- | --- | --- | --- | --- | --- |
| 5 | 39 | 38 | 6 | 24.5 | 240 |
| 5.5 | 39.5 | 38.5 | 6.5 | 24.5/25.0 | 245 |
| 6 | 40 | 39 | 7 | 25.0 | 250 |
| 6.5 | 40.5 | 39.5 | 7,5 | 25.5 | 255 |
| 7 | 41 | 40 | 8 | 25.5/26.0 | 260 |
| 7,5 | 41.5 | 40.5 | 8,5 | 26.0 | 265 |
| 8 | 42 | 41 | 9 | 26.5 | 270 |
| 8,5 | 42.5 | 41.5 | 9,5 | 27.0 | 275 |
| 9 | 43 | 42 | 10 | 27.0/27.5 | 280 |
| 9,5 | 43.5 | 42.5 | 10,5 | 27.5 | 285 |
| 10 | 44 | 43 | 11 | 28.0 | 290 |
| 10,5 | 44.5 | 43.5 | 11,5 | 28.5 | 295 |
| 11 | 45 | 44 | 12 | 29.0 | 300 |
| 11,5 | 45.5 | 44.5 | 12,5 | 29.5 | 305 |
| 12 | 46 | 45 | 13 | 30.0 | 310 |
| 12,5 | 46.5 | 45.5 | 13,5 | 30.5 | 315 |
| 13 | 47 | 46 | 14 | 31.0 | 320 |
The Shadow sneaker is ultra light and comfortable, perfect for the summer time.
Shadow Knit And Leather Sneaker
Price Including Taxes and Duties
Sneaker Low Cut
Slip-on
Decorative lacing
Berluti signature "B" embroidery
Venezia leather details
Unlined sneaker, reinforced on the toe and heel parts
Padded insole
Construction : Incollato
Fall 19
Made in Italy
Last : SHADOW 1
Reference : S4918-Z5
Last : SHADOW 1
Model available in sizes 5 to 12.5
Technical Knit
Venezia Calf Leather 
To take care of the knit, it is recommended to use a wet sponge. With regards to the outsole, one can use soap and apply it with gentle circular moves.
Venezia leather care begins with removing any dirt using a soft cloth, followed by application of a wax of the right colour to nourish and protect the leather. Then rub vigorously with the polishing glove to shine it.