Playoff Scritto Leather Sneaker
Details
https://www.berluti.com/en-gb/playoff-scritto-leather-sneaker/260968.html
Item No. 260968
Price Including Taxes and Duties
Winter 2023 Size Guide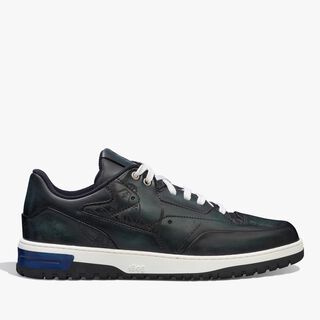 Playoff Scritto Leather Sneaker
Price Including Taxes and Duties
Model available in sizes 5 to 12.5
| Berluti Size | French Size | Italian Size | US Size | Japan Size | Korean Size |
| --- | --- | --- | --- | --- | --- |
| 5 | 39 | 38 | 6 | 24.5 | 240 |
| 5.5 | 39.5 | 38.5 | 6.5 | 24.5/25.0 | 245 |
| 6 | 40 | 39 | 7 | 25.0 | 250 |
| 6.5 | 40.5 | 39.5 | 7,5 | 25.5 | 255 |
| 7 | 41 | 40 | 8 | 25.5/26.0 | 260 |
| 7,5 | 41.5 | 40.5 | 8,5 | 26.0 | 265 |
| 8 | 42 | 41 | 9 | 26.5 | 270 |
| 8,5 | 42.5 | 41.5 | 9,5 | 27.0 | 275 |
| 9 | 43 | 42 | 10 | 27.0/27.5 | 280 |
| 9,5 | 43.5 | 42.5 | 10,5 | 27.5 | 285 |
| 10 | 44 | 43 | 11 | 28.0 | 290 |
| 10,5 | 44.5 | 43.5 | 11,5 | 28.5 | 295 |
| 11 | 45 | 44 | 12 | 29.0 | 300 |
| 11,5 | 45.5 | 44.5 | 12,5 | 29.5 | 305 |
| 12 | 46 | 45 | 13 | 30.0 | 310 |
| 12,5 | 46.5 | 45.5 | 13,5 | 30.5 | 315 |
| 13 | 47 | 46 | 14 | 31.0 | 320 |
The Playoff Sneaker is inspired by high-top basketball shoes from the 80's and made of patinated Venezia leather cutouts and a rubber outsole with a colourful leather insert, making for a classic yet striking new addition to the latest Berluti collection.
Playoff Scritto Leather Sneaker
Price Including Taxes and Duties
Sneaker Low Top
Incollato with lateral stitching construction
4 Visible eyelets in Palladium
Venezia Scritto leather
Calf leather tab insert in the outsole
Padded tongue, insole and intern heel counter
Black Mesh lining for maximum comfort
Two pairs of laces included : a colored and a white one
Construction : Incollato
Winter 23
Made in Italy
Last : Play Off
Reference : S5867-V2
Last : Play Off
Model available in sizes 5 to 12.5
Venezia Calf Leather - Patinable
Nylon Lining
Venezia leather care begins with removing any dirt using a soft cloth, followed by the application of a wax of the right color to nourish and protect the leather. Then rub vigorously with the polishing glove to shine it.