Andy Demesure Leather Loafer
Details
https://www.berluti.com/en-ee/andy-demesure-venezia-calf-leather-loafer/205128.html
Item No. 205128
Shoes Size Guide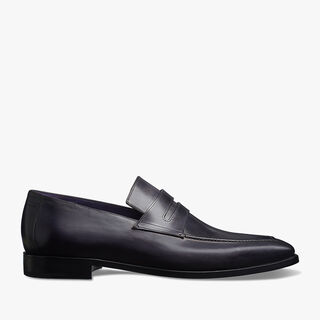 Andy Demesure Leather Loafer
Model available in sizes 5 to 12.5
| Berluti Size | French Size | Italian Size | US Size | Japan Size | Korean Size |
| --- | --- | --- | --- | --- | --- |
| 5 | 39 | 38 | 6 | 24.5 | 240 |
| 5.5 | 39.5 | 38.5 | 6.5 | 24.5/25.0 | 245 |
| 6 | 40 | 39 | 7 | 25.0 | 250 |
| 6.5 | 40.5 | 39.5 | 7,5 | 25.5 | 255 |
| 7 | 41 | 40 | 8 | 25.5/26.0 | 260 |
| 7,5 | 41.5 | 40.5 | 8,5 | 26.0 | 265 |
| 8 | 42 | 41 | 9 | 26.5 | 270 |
| 8,5 | 42.5 | 41.5 | 9,5 | 27.0 | 275 |
| 9 | 43 | 42 | 10 | 27.0/27.5 | 280 |
| 9,5 | 43.5 | 42.5 | 10,5 | 27.5 | 285 |
| 10 | 44 | 43 | 11 | 28.0 | 290 |
| 10,5 | 44.5 | 43.5 | 11,5 | 28.5 | 295 |
| 11 | 45 | 44 | 12 | 29.0 | 300 |
| 11,5 | 45.5 | 44.5 | 12,5 | 29.5 | 305 |
| 12 | 46 | 45 | 13 | 30.0 | 310 |
| 12,5 | 46.5 | 45.5 | 13,5 | 30.5 | 315 |
| 13 | 47 | 46 | 14 | 31.0 | 320 |
Andy Warhol first entered Berluti in 1962. Fascinated by the savoir-faire of the Maison, he ordered a pair of loafers from Talbinio Berluti, but Olga secretly undertook to make another pair of shoes from the hides she could find. She designed a truly modernist pair of loafers, but the hide she used had a flaw: a large vein running through the apron of one shoe. Olga explained to him that this pair was not like any other, and that the leather she had selected came from a "subversive" cow that liked to scratch herself on barbed wire. Andy Warhol understood immediately that this uncommon element made his pair of shoes completely unique. He loved the surreal nature of the plan, saying that, "from now on, I only want shoes made from the hides of subversive cows". This style was avant-garde in 1962, and still looks completely contemporary today, remaining a symbol of Maison Berluti visionary creativity. Later reworked with the evolutions of the Maison collections and lasts, the Andy loafer is an emblematic Berluti shoe.
Andy Demesure Leather Loafer
One-Piece Leather shoe

Hand-stitched apron and backstitching

Square tongue

Construction : Blake
Shoetree included
Made in Italy
Last : Demesure
Reference : S1411-V1
Last : Demesure
Model available in sizes 5 to 12.5
Venezia calf leather - Patinable
Venezia leather care begins with removing any dirt using a soft cloth, followed by a clear leather wax to nourish and protect the leather. Then rub vigorously with the polishing glove to restore the leather's original lustre.