Fast Track Torino Alligator Leather & Neoprene Sneaker
Details
https://www.berluti.com/en-de/fast-track-torino-alligator-leather-and-neoprene-sneaker/173257.html
Item No. 173257
Sneakers Size Guide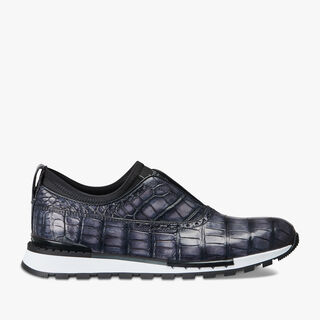 Fast Track Torino Alligator Leather & Neoprene Sneaker
Model available in sizes 5 to 12,5
| Berluti Size | French Size | Italian Size | US Size | Japan Size | Korean Size |
| --- | --- | --- | --- | --- | --- |
| 5 | 39 | 38 | 6 | 24.5 | 240 |
| 5.5 | 39.5 | 38.5 | 6.5 | 24.5/25.0 | 245 |
| 6 | 40 | 39 | 7 | 25.0 | 250 |
| 6.5 | 40.5 | 39.5 | 7,5 | 25.5 | 255 |
| 7 | 41 | 40 | 8 | 25.5/26.0 | 260 |
| 7,5 | 41.5 | 40.5 | 8,5 | 26.0 | 265 |
| 8 | 42 | 41 | 9 | 26.5 | 270 |
| 8,5 | 42.5 | 41.5 | 9,5 | 27.0 | 275 |
| 9 | 43 | 42 | 10 | 27.0/27.5 | 280 |
| 9,5 | 43.5 | 42.5 | 10,5 | 27.5 | 285 |
| 10 | 44 | 43 | 11 | 28.0 | 290 |
| 10,5 | 44.5 | 43.5 | 11,5 | 28.5 | 295 |
| 11 | 45 | 44 | 12 | 29.0 | 300 |
| 11,5 | 45.5 | 44.5 | 12,5 | 29.5 | 305 |
| 12 | 46 | 45 | 13 | 30.0 | 310 |
| 12,5 | 46.5 | 45.5 | 13,5 | 30.5 | 315 |
| 13 | 47 | 46 | 14 | 31.0 | 320 |
With the Fast Track shoe, Berluti embraces the running-shoe trend and opens a new era in the history of Maison. This uniquely contemporary model breaks the rules by pairing an alligator upper with an extremely flexible.
Fast Track Torino Alligator Leather & Neoprene Sneaker
The iconic Fast Track is combining with modernity the bottier perforation codes mixed up with neoprene socks.
The neoprene sock makes the shoe a little bit difficult to put on but in the end ensures optimal support and extreme comfort.
Memory foam insole for great comfort.
Sole slightly flared at heel.
Anti-slip notched sole with bold geometric design.
Construction : Incollato
Spring/Summer 2019 Pre-Collection
Made in Italy
Last : Torino
Reference : S4675-E2
Last : Torino
Model available in sizes 5 to 12,5
Rubber sole
To clean the leather, we recommend using a soft brush (dust easily collects between the scales). To nourish and restore lustre, we recommend using Berluti waxes (identical to those used for Venezia leather). Lastly, nourish the leather with the special "reptile leather" cream.
To clean the neoprene, just wash it with water. Avoid drying it in the sun.