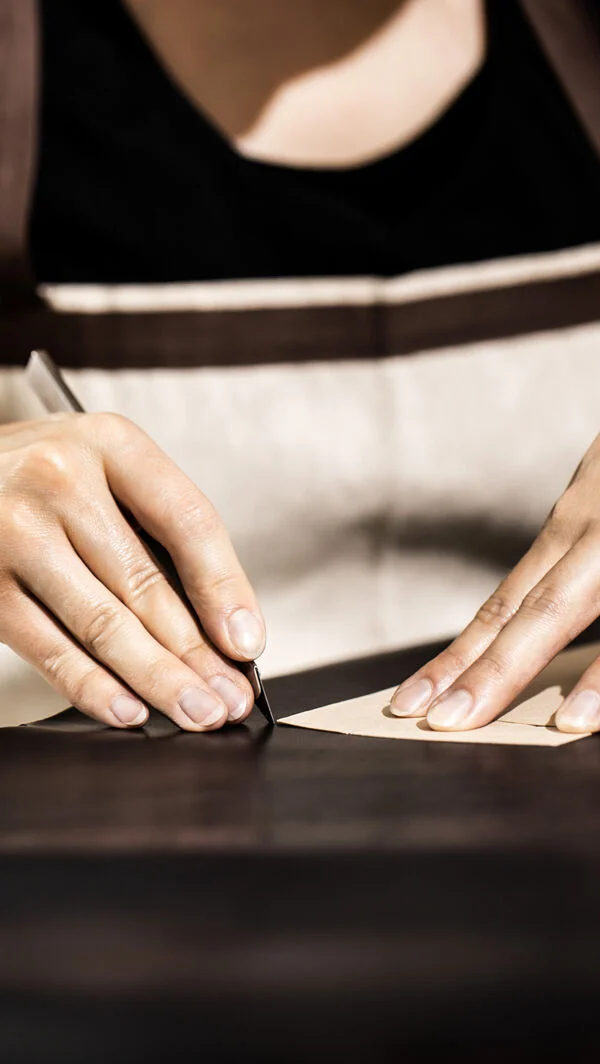 COMMUNITIES
TRAIN, TRANSMIT, PERPETUATE
The Académie du Savoir-Faire
Transmitting unparalleled know-how while contributing to the professional integration of its students is the dual vocation of the Académie du Savoir-Faire. This prestigious course began at the Berluti Manifattura in 2012, through a partnership between Berluti, the Centoform training institute and the Emilia Romagna region.
During a 400-hour theoretical and practical training program, future bootmakers learn the unique art of cutting, stitching, assembling and patinating. Their work is carried out under the benevolent yet highly demanding supervision of the Maison's master craftsmen. The final examination provides a qualification recognized throughout Europe. But only the best candidates obtain the Certificate of Excellence, which opens the doors to the Berluti Manifattura. The Academy joined the LVMH group's Institute of Métiers d'Excellence in November 2018.
Institute of Métiers d'Excellence
Since 2014, the LVMH Institute of Métiers d'Excellence has been training young generations and people undergoing retraining in unique craftsmanship, creation and sales skills. It now offers 31 training programs in France, Switzerland, Italy and Spain. The ME Institute was designed to ensure the continuity of the professions of excellence that have made the reputation of the group's Maisons, to transmit know-how and to develop the employability of its students.
Recruitment to the ME Institute is based on the principle of equal opportunity. The institute seeks to attract top talents from all over the world, ensuring the arrival of people with diverse origins and cultures within the companies while maintaining demanding and objective selection criteria.
Raising awareness among all employees about climate issues
All employees must be involved in initiatives to combat climate change. But it's important that they understand why. Education and training are vital in dealing with these challenges. After two pilot projects that were carried out in the second half of 2021 at Maison Berluti, everyone will now be invited to take part in a Climate Fresk session. The three-hour workshop involves groups of 4 to 7 people connecting 42 illustrated cards in an effort to learn more about the cause and effect relationships between people's actions and climate change. It's a fun way to approach an essential topic, and it has already had an impact on hundreds of thousands of participants around the world.