Scritto Canvas And Leather Deckchair Berluti Edition
Details
https://www.berluti.com/en-us/scritto-canvas-and-leather-deckchair-berluti-edition/254967.html
Item No. 254967
Summer 22 Size Guide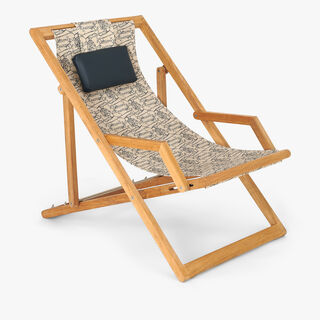 Scritto Canvas And Leather Deckchair Berluti Edition
Dimensions
Height : 92 cm
Width : 105 cm
Depth : 70 cm
Folded dimensions : 105 x 70 x 15 cm


Weight : 9 kg
Scritto Canvas And Leather Deckchair Berluti Edition
Folding Deckchair
Calf leather removable headrest  
Three reclining positions for added comfort
Berluti x Tectona co-branding plate
Made in France
Reference : DECKCHAIR-SCRITTO_ARABESQUE-WOOD
Dimensions
Height : 92 cm
Width : 105 cm
Depth : 70 cm
Folded dimensions : 105 x 70 x 15 cm


Weight : 9 kg
Scritto Canvas
Calf Leather
Solid Teak
Calf leather care begins with removing any dirt using a soft cloth, followed by the application of a slight quantity of Berluti Renovative Cream to nourish & protect the leather. No use of wax nor solvent.
Teak is an exceptionnally long-lasting wood unaffected by rot or the elements, gradually developing a handsome silver - grey patina over time.
To care for it :
- Dust before use. Any coluor discrepancies will diminish naturally after prolonged exposure to light.
- Clean once a year using water with a bit of washing-up liquid or soap
- Remove stains : Non greasy stains can be removed by washing away with water. Greasy stains require the use of a textile cleaning product.
- To conserve the orginal colour : apply a coat of Wood Sealant to slow down the formation of the grey patina. This product is also effective against stains.
- To remove the grey patina : clean with Net Trol to remove all impurities, stains, mould and previous treatments.