Jagua Scritto Swipe Leather Card Holder
Details
https://www.berluti.com/en-us/jagua-scritto-swipe-leather-card-holder/243292.html
Item No. JAGUA_NEO_GRADIANT-JOUR-V2
Wallets Size Guide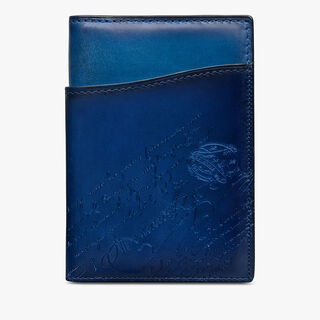 Jagua Scritto Swipe Leather Card Holder
Dimensions
Height : 11.5 cm
Lenght : 7.5 cm
For Summer 22, new patina colors take over models of the Jour line as a gradient effect: different shades of the same color, ranging from lighter to darker. This singular depth highlights all the details of the Jour family of bags and small leather goods.
Jagua Scritto Swipe Leather Card Holder
Outer features
One flat pocket at the back
Inner features
Three vertical credit card slots
Two horizontal flat pockets
One side pocket for receipts
Construction : SIMPLE
Summer 2022
Made in Italy
Line : JOUR
Reference : JAGUA_NEO_GRADIANT-JOUR-V2
Line : JOUR
Dimensions
Height : 11.5 cm
Lenght : 7.5 cm
Venezia Leather
Calf Leather Lining
Venezia leather care begins with removing any dirt using a soft cloth, followed by a clear leather wax to nourish and protect the leather. Then rub vigorously with the polishing glove to restore the leather's original lustre.