Our pants
palette for
different styles
Slim or straight? Pleated or flat? Wool or velvet? Chinos or classic? Casual or formal? Choosing pants depends on many things – your body type, your lifestyle, the circumstances, but also your style. Here's how to choose the best pair.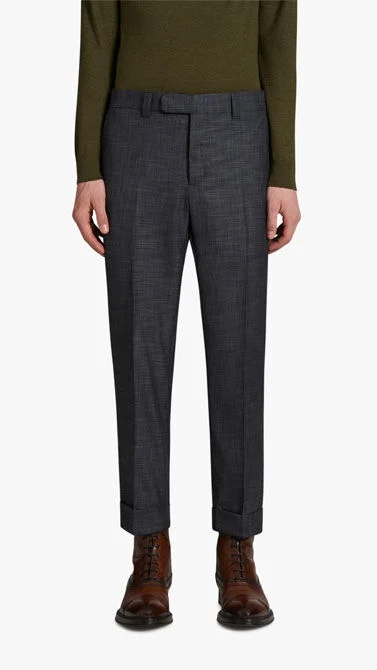 TAILORED PANTS
These are classic pants in stretch wool twill, a source of incomparable comfort and aesthetic sophistication. The slightly lowered crotch makes them perfect for all occasions: a formal look with a three-button, double-breasted jacket, for example, or more casual style with a sweater and Andy loafers. You can wear them with a slight break over the shoes, or much shorter, stopping at the ankle, to show off your footwear.
CHINOS
Chinos were invented for the British colonial troops in India in the mid-19th century to replace the white uniform trousers, which were too flashy and too easily sullied. They have since become a staple of the casual wardrobe, just as jeans have. They are making a major comeback this season in a sleek, refined version: in 100% wool flannel or stretch wool twill, it has a slightly slimmer cut than traditional chinos, and the material (a blend of cotton twill and cashmere) exudes great elegance. There are two versions – classic styling or those with leather pocket detailing. They can also be worn as casual slacks, with Chelsea boots and a denim shirt, or with an easy-wearing knit shirt jacket (the best of the season!).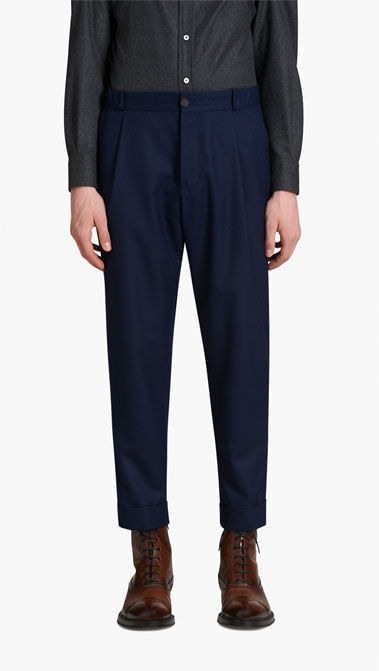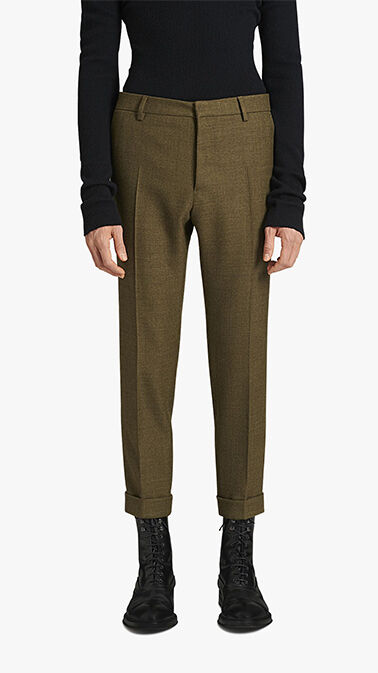 CARROT PANTS
For more daring dressers, these pants offer a very studied nonchalance. Somewhat wider, in 100% wool, with a lower crotch and progressively slimmer fit down the leg, these are meant to be worn low-waisted, with footwear such as Derbys, without socks.
SWEATPANTS
Snug at the bottom with ribbed cuffs, made of wool and silk, a soft, sophisticated fabric, these pants look perfect with a sweater and Alessio or Andy Spada shoes, for an air of casual chic, and come in khaki or dark blue.