Limited Edition Alessandro Zero Cut Calf Leather Oxford
Details
https://www.berluti.com/en-int/limited-edition-alessandro-zero-cut-calf-leather-oxford/169049.html
Item No. 169049
Oxfords & Derbies Size Guide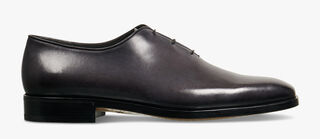 Limited Edition Alessandro Zero Cut Calf Leather Oxford
Model available in sizes 5 to 12,5
| Berluti Size | French Size | Italian Size | US Size | Japan Size |
| --- | --- | --- | --- | --- |
| 5 | 38.5 | 37.5 | 6 | 24.5 |
| 5.5 | 39 | 38 | 6.5 | 24.5/25.0 |
| 6 | 39.5 | 38.5 | 7 | 25.0 |
| 6.5 | 40 | 39 | 7,5 | 25.5 |
| 7 | 40,5/41 | 39,5/40 | 8 | 25.5/26.0 |
| 7,5 | 41/41,5 | 40/40,5 | 8,5 | 26.0 |
| 8 | 42 | 41 | 9 | 26.5 |
| 8,5 | 42,5 | 41,5 | 9,5 | 27.0 |
| 9 | 43 | 42 | 10 | 27.0/27.5 |
| 9,5 | 43,5/44 | 42,5/43 | 10,5 | 27.5 |
| 10 | 44,5 | 43,5 | 11 | 28.0 |
| 10,5 | 45 | 44 | 11,5 | 28.5 |
| 11 | 45,5/46 | 44,5/45 | 12 | 29.0 |
| 11,5 | 46/46,5 | 45/45,5 | 12,5 | 29.5 |
| 12 | 47 | 46 | 13 | 30.0 |
| 12,5 | 47,5/48 | 46,5/47 | 13,5 | 30.5 |
| 13 | 48,5 | 47,5 | 14 | 31.0 |
Description
Description
The quintessence of Berluti's bootmaker know-how and expertise is embodied by the Zero Cut. First unveiled during the Fall-Winter 18 prêt-à-porter show, the Zero Cut is the purest expression of the iconic Alessandro lace-up court shoe. Handcrafted from a single piece of leather and with no stitching on the upper for an optimal comfort, the Alessandro was created by Alessandro Berluti in 1895 and has since remained essentially unchanged, swiftly becoming Berluti's emblematic shoe. Following the Alessandro tradition, the Zero Cut is also crafted from a single piece of leather and is completely devoid of stitching on the back. Its construction techniques are akin to bespoke bootmaking and it features specific finishings, including a lightweight shoe tress, blake stitching and wooden nails on the outsole. Only fifteen pairs are produced each month.
Last : Demesure

Model available in sizes 5 to 12,5
One single piece of leather without any stitching
Double rank of wooden studs incrusted in the leather sole
3 eyelets shoe
Natural lining and sole

Construction : Blake

Shoetree included

Carry Over

Made in Italy

Last : Demesure

Reference : S4679-V1
Venezia Calf Leather - Patinable

Leather Sole

Venezia leather care begins with removing any dirt using a soft cloth, followed by a clear leather wax to nourish and protect the leather. Then rub vigorously with the polishing glove to restore the leather's original lustre.