Egio Alligator & Vitello Leather Sandal
Details
https://www.berluti.com/en-gr/egio-alligator-and-vitello-leather-sandal/176719.html
Item No. 176719
Summer shoes Size Guide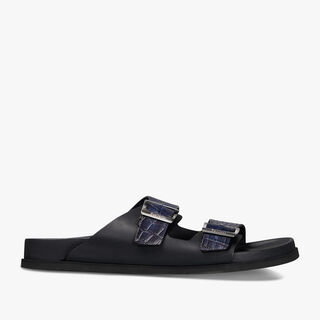 Egio Alligator & Vitello Leather Sandal
Model available in sizes 5 to 12,5
| Berluti Size | French Size | Italian Size | US Size | Japan Size | Korean Size |
| --- | --- | --- | --- | --- | --- |
| 5 | 39 | 38 | 6 | 24.5 | 240 |
| 5.5 | 39.5 | 38.5 | 6.5 | 24.5/25.0 | 245 |
| 6 | 40 | 39 | 7 | 25.0 | 250 |
| 6.5 | 40.5 | 39.5 | 7,5 | 25.5 | 255 |
| 7 | 41 | 40 | 8 | 25.5/26.0 | 260 |
| 7,5 | 41.5 | 40.5 | 8,5 | 26.0 | 265 |
| 8 | 42 | 41 | 9 | 26.5 | 270 |
| 8,5 | 42.5 | 41.5 | 9,5 | 27.0 | 275 |
| 9 | 43 | 42 | 10 | 27.0/27.5 | 280 |
| 9,5 | 43.5 | 42.5 | 10,5 | 27.5 | 285 |
| 10 | 44 | 43 | 11 | 28.0 | 290 |
| 10,5 | 44.5 | 43.5 | 11,5 | 28.5 | 295 |
| 11 | 45 | 44 | 12 | 29.0 | 300 |
| 11,5 | 45.5 | 44.5 | 12,5 | 29.5 | 305 |
| 12 | 46 | 45 | 13 | 30.0 | 310 |
| 12,5 | 46.5 | 45.5 | 13,5 | 30.5 | 315 |
| 13 | 47 | 46 | 14 | 31.0 | 320 |
Egio Alligator & Vitello Leather Sandal
Two adjustable straps on the upper part.
Two metallic buckles with an engraved Berluti logo.
A calf leather lining for a refined summer shoe
The sandal features a footrest in rubber for total comfort.
Rubber sole with scritto design makes the shoe very supple.
Construction : Incollato
Carry Over
Made in Italy
Last : EGIO 1
Reference : S4749-E10
Last : EGIO 1
Model available in sizes 5 to 12,5
Rubber sole
To clean the leather, we recommend using a soft brush (dust easily collects between the scales). To nourish and restore lustre, we recommend using Berluti waxes (identical to those used for Venezia leather). Lastly, nourish the leather with the special "reptile leather" cream.