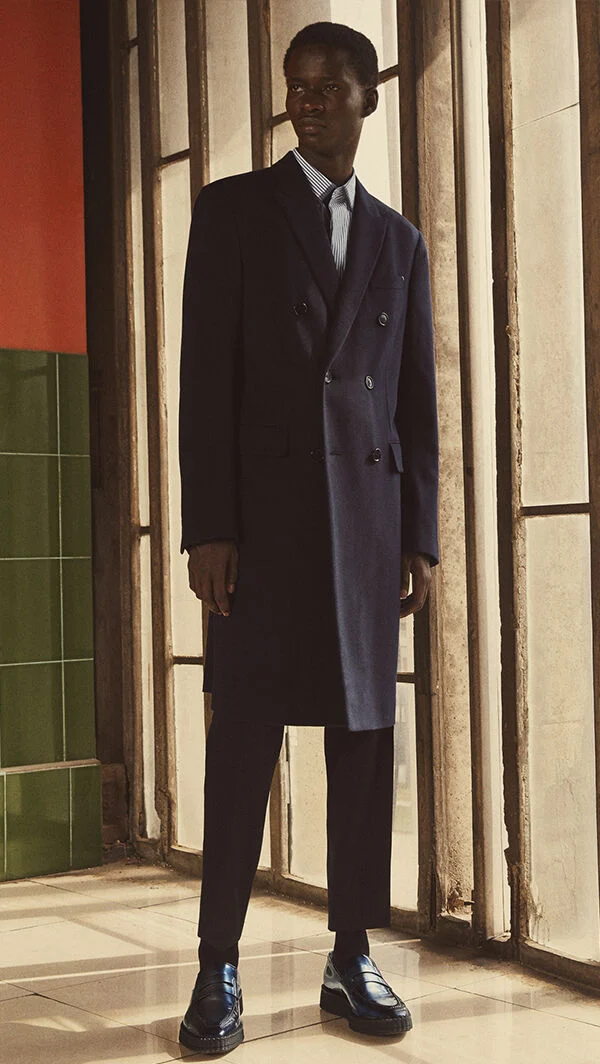 Panjab University
Past, present and future converge in Le Corbusier's circular structure for Panjab's University Centre, where Berluti's Fall 2019 most innovative pieces are showcased
With its big luminous windows and concrete anatomy, the Student Centre is the heart of the Panjab University Campus. Designed by Le Corbusier in the late 1960's as part of the Chandigarh city project, it is a symbol of relentless modernity and a reflection of Berluti's Fall 2019 most cutting-edge pieces. For this new season, Kris Van Assche created a line of ready-to-wear and accessories with a futuristic spirit. Shades of cosmic blue and midnight black take over outerwear including a double breasted, water-repellent woolen pea coat and a timeless double face cashmere coat, while the Andy Patina shirt pays homage to Berluti's trademark know-how through a dripping effect print evocative of the craftsmen's dusters used to apply the patina on shoes.
In a constant search for new patinas, Kris Van Assche has developed the new "Blue Metal", a visionary patina mixing blue shades with silver tones for a metal finish with a deep, bright colour. The patina is then applied to the season's key accessories, including belts, bags and the newest "Andy Creeper", a variation of Berluti's most emblematic loafer. Its perfect counterpart is the "Shadow", an ultra-lightweight sneaker mixing nylon knit, Venezia leather details and a resistant rubber outsole. Patinated bags include the "Cube" Weekender bag, combining nylon and Vitello Metal leather for lightness and a striking visual effect. The medium-sized "Volume" backpack mixes a subdued nylon jacquard Scritto pattern with technical fabric and a large calf leather panel at the bottom. And the "Complice" cross-body bag, also in nylon and calf leather with a water-repellent finish, emerges as a new must, both undeniably trendy and enduring.
Contemporary aesthetic takes the shape of Shadow's sleek profile, crafted with durable and light nylon knit. With impeccable lightness and durability, the nylon knit brings sneaker design up a notch while con-firming the brand's continuous pursuit of innovation.