Details
https://www.berluti.com/en-es/venezia-calf-leather-flask/173212.html
Item No. FLASK-V1
All accessories Size Guide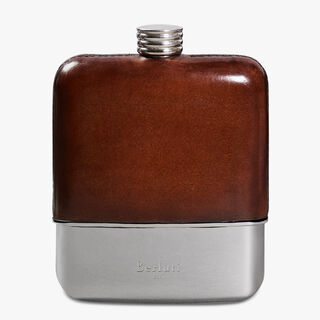 Leather Flask
Height : 10 cm
Width : 9 cm
Thickness : 2 cm
Volume : 6oz (170 ml)
| Berluti Size | French Size | Italian Size | US Size | Japan Size |
| --- | --- | --- | --- | --- |
| 5 | 38.5 | 37.5 | 6 | 24.5 |
| 5.5 | 39 | 38 | 6.5 | 24.5/25.0 |
| 6 | 39.5 | 38.5 | 7 | 25.0 |
| 6.5 | 40 | 39 | 7,5 | 25.5 |
| 7 | 40,5/41 | 39,5/40 | 8 | 25.5/26.0 |
| 7,5 | 41/41,5 | 40/40,5 | 8,5 | 26.0 |
| 8 | 42 | 41 | 9 | 26.5 |
| 8,5 | 42,5 | 41,5 | 9,5 | 27.0 |
| 9 | 43 | 42 | 10 | 27.0/27.5 |
| 9,5 | 43,5/44 | 42,5/43 | 10,5 | 27.5 |
| 10 | 44,5 | 43,5 | 11 | 28.0 |
| 10,5 | 45 | 44 | 11,5 | 28.5 |
| 11 | 45,5/46 | 44,5/45 | 12 | 29.0 |
| 11,5 | 46/46,5 | 45/45,5 | 12,5 | 29.5 |
| 12 | 47 | 46 | 13 | 30.0 |
| 12,5 | 47,5/48 | 46,5/47 | 13,5 | 30.5 |
| 13 | 48,5 | 47,5 | 14 | 31.0 |
Height : 10 cm
Width : 9 cm
Thickness : 2 cm
Volume : 6oz (170 ml)
Sterling Silver and Venezia Leather                                                      
Engraved with Berluti logo
Handsewn stop stitches                                                          
Carabiner in Sterling Silver and Leather

Carry Over

Made in Italy

Reference : FLASK-V1
Venezia Calf Leather - Patinable
Sterling Silver

To keep your product in the best condition, please follow these care and usage instructions.

Cleaning:

Rinse the inside of the flask carefully with clean water before using it for the first time.
Rinse the flask carefully in clean water and leave to dry after each use.
Do not use harsh cleaning products, solvents or bleach to wash the flash.
Silver can blacken over time. To clean the flask, use a soft, damp cloth and a pinch of bicarbonate of soda. Gently polish the metal part of the flask, then dry with a soft cloth.

Caution:  

Do not use the flask to store drinks over a long period.
The flask is designed to hold liquids with a pH higher than 4.5. It may affect the taste of liquids with a pH lower than 4.5.  
Do not store warm milk or other baby food in the flask.