THE BERLUTI WINTER 2020 COLLECTION
Heritage is the soul of menswear. A generational dialogue between tradition and change, it inspires and provokes the evolution of male dress. For Winter 2020, Berluti intensifies and abstracts its own heritage in a free-spirited proposal for our time. Imagining what the Maison's century-old archives – entrenched in expert shoemaking – would look like had they encompassed tailoring, artistic director Kris Van Assche stages an exaggerated exchange between past and present. The conclusion is eccentric: an electric reaction rooted in our moment in time when dress codes liquify and expressions amplify.
In the Opéra Garnier, where the classical and contemporary co-exist, a blue slate suit sets the scene. It is loosened in silhouette, worn with a crimson roll neck rather than a suit-and-tie, and bright blue and red sneakers. A soft weekend bag in Berluti's new SIGNATURE Canvas nonchalantly holds a pair of classic Alessandro patina oxfords. No longer a question of either or, the formal harmonises with the sporty. In a continual conversation between contrasts, old and new – parquet floors and pavement – inform and augment one another, marrying the bourgeoisie and the rebel. A dynamic reality of life, the look echoes the first collection Kris Van Assche proposed on a runway, for his eponymous label, in 2007.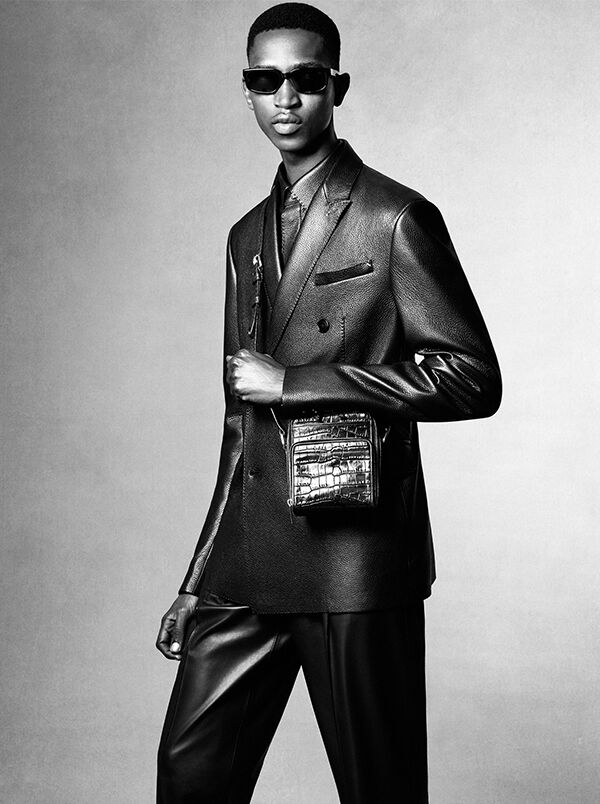 The discourse sets a free and light-hearted premise for the collection. As silhouettes become more casual, the established signatures of Berluti loosen up. The patina leather suit – a new trademark for the Maison – is softened and refined. In its ongoing translation from shoes into garments and bags, the colours of patina are introduced to sportier manifestations in shearling, puffer and bomber jackets.
Multi-coloured patterns informed by the stained surfaces of the tables on which craftsmen hand-dye the patina shoe feature in silk shirts and pony skin outerwear. Expanding the territory, they are decolourised with a splash technique executed by hand.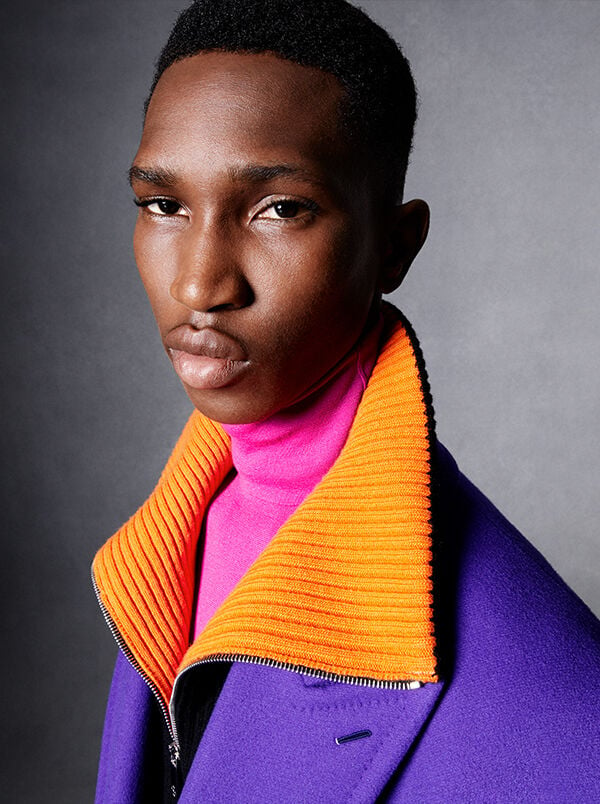 Motifs associated with heritage dressing are introduced. While retained in classic expressions in suiting, the patterns of Prince of Wales check, houndstooth and herringbone magnify and deconstruct across the extended wardrobe. Silk shirts imitate original heritage patterns in trompe l'oeil prints, refining the humble men's wardrobe. A camel-coloured knit appears like houndstooth by way of embroidery. A hand-splashed hooded calf leather jacket features an exaggerated and deconstructed houndstooth pattern. A double-faced wool coat morphs Prince of Wales check with houndstooth in a blown-up graphic.
Identifying shared genetics between heritage motifs and those of sportswear, Kris Van Assche elevates the sporty chevron in voluminous intarsia shearling coats executed by furriers as a natural take on faux fur. Suspended between formal and sportswear, they emerge in shocking pink and blue, or white and orange.
The sporty continues to integrate with the artisanal: a coat and a caban in fluo multi-colours are constructed entirely from thin leather strips. Pony skin outerwear is lined in down, while patina leather jackets undergo quilting, and super refined leather used in joggers and shirting resembles nylon.
A green patina blouson nods at the furniture collaboration between Pierre Jeanneret and Berluti. Kris Van Assche examines the Maison's classic Scritto motif and imagines within it a new canvas named SIGNATURE – used on a weekend bag, a backpack, a tote, as well as small leather goods and also on trunks, a watch case and a shoe care kit from the new collaboration with Globe-Trotter – evoking the idea of a heritage logo that never existed.
The Gravity sneaker is given new life in colour blocking informed by the eccentric hues of the collection. A new homage to the Alessandro shoe extends its toe into a pointed diamond shape, skewed and abstracted for exaggeration.