Details
https://www.berluti.com/en-cn/playtime-palermo-calf-leather-sneaker/135137.html
Item No. 135137
Shoes Size Guide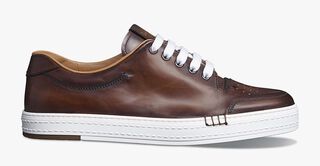 Playtime Leather Sneaker
Model available in sizes 5 to 12,5

| Berluti Size | French Size | Italian Size | US Size | Japan Size |
| --- | --- | --- | --- | --- |
| 5 | 38.5 | 37.5 | 6 | 24.5 |
| 5.5 | 39 | 38 | 6.5 | 24.5/25.0 |
| 6 | 39.5 | 38.5 | 7 | 25.0 |
| 6.5 | 40 | 39 | 7,5 | 25.5 |
| 7 | 40,5/41 | 39,5/40 | 8 | 25.5/26.0 |
| 7,5 | 41/41,5 | 40/40,5 | 8,5 | 26.0 |
| 8 | 42 | 41 | 9 | 26.5 |
| 8,5 | 42,5 | 41,5 | 9,5 | 27.0 |
| 9 | 43 | 42 | 10 | 27.0/27.5 |
| 9,5 | 43,5/44 | 42,5/43 | 10,5 | 27.5 |
| 10 | 44,5 | 43,5 | 11 | 28.0 |
| 10,5 | 45 | 44 | 11,5 | 28.5 |
| 11 | 45,5/46 | 44,5/45 | 12 | 29.0 |
| 11,5 | 46/46,5 | 45/45,5 | 12,5 | 29.5 |
| 12 | 47 | 46 | 13 | 30.0 |
| 12,5 | 47,5/48 | 46,5/47 | 13,5 | 30.5 |
| 13 | 48,5 | 47,5 | 14 | 31.0 |
Description
Description
Throughout its history, Berluti has always made sports shoes at the request of its customers. The first was a ski boot designed for Rudolph Valentino in the 1920s, which was followed by another for Greta Garbo. Later came polo boots, golfing shoes, climbing boots, cycling shoes, driving shoes and many others. These forays into the world of sport were far from fringe enterprises and continually nourished the creativity of Maison Berluti. Berluti once again embraced contemporary style in introducing its first shoemaker sneaker in 2014. A shoe that unflinchingly turned the city into a playground. It's PLAYTIME! Palermo: The capital of the Italian island of Sicily that has established an enviable reputation as a city of sport.
Last : Palermo

Model available in sizes 5 to 12,5

One piece of leather
Handsewn stop stitches on the upper
Sport finishings: metal eyelets and diamond-shape perforations.
Scritto detailing on the sole
Cotton laces in colours that contrast with the upper


Construction : Incollato

Permanent Collection

Made in Italy

Last : Palermo

Reference : S4035-V1
Venezia Calf Leather - Patinable

Rubber sole

Venezia leather care begins with removing any dirt using a soft cloth, followed by a clear leather wax to nourish and protect the leather. Then rub vigorously with the polishing glove to restore the leather's original lustre.