Reflet Calf Leather Loafer
Details
https://www.berluti.com/en-ae/reflet-calf-leather-loafer/182461.html
Item No. 182461
Loafers Size Guide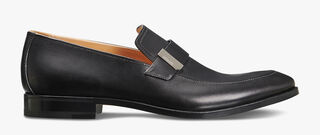 Reflet Calf Leather Loafer
Model available in sizes 5 to  12.5
| Berluti Size | French Size | Italian Size | US Size | Japan Size |
| --- | --- | --- | --- | --- |
| 5 | 38.5 | 37.5 | 6 | 24.5 |
| 5.5 | 39 | 38 | 6.5 | 24.5/25.0 |
| 6 | 39.5 | 38.5 | 7 | 25.0 |
| 6.5 | 40 | 39 | 7,5 | 25.5 |
| 7 | 40,5/41 | 39,5/40 | 8 | 25.5/26.0 |
| 7,5 | 41/41,5 | 40/40,5 | 8,5 | 26.0 |
| 8 | 42 | 41 | 9 | 26.5 |
| 8,5 | 42,5 | 41,5 | 9,5 | 27.0 |
| 9 | 43 | 42 | 10 | 27.0/27.5 |
| 9,5 | 43,5/44 | 42,5/43 | 10,5 | 27.5 |
| 10 | 44,5 | 43,5 | 11 | 28.0 |
| 10,5 | 45 | 44 | 11,5 | 28.5 |
| 11 | 45,5/46 | 44,5/45 | 12 | 29.0 |
| 11,5 | 46/46,5 | 45/45,5 | 12,5 | 29.5 |
| 12 | 47 | 46 | 13 | 30.0 |
| 12,5 | 47,5/48 | 46,5/47 | 13,5 | 30.5 |
| 13 | 48,5 | 47,5 | 14 | 31.0 |
Description
Description
The Reflet is a versatile new loafer, flexible and lightweight, suiting all occasions. This shoe distinguishes itself for its comfort, thanks to its material, the Vitello Shaded, its generous shape and the treatment operated on its outsole.
Last : REFLET_1

Model available in sizes 5 to  12.5
The Reflet loafer is entirely made of Vitello Shaded Calf leather, supple and lightweight
Deep Black patina
A single apron on the shoe is adorned with a metal piece; the right foot's one is engraved with the Berluti beveled logo
Natural lining
Leather outsole with new Berluti 1895 logo. The sole is drummed to reach peculiar flexibility

Construction : Blake

Fall 19

Made in Italy

Last : REFLET_1

Reference : S4914-C27
Vitello Shaded calf leather 

Leather sole

To take care of the Vitello Shaded, it is recommended to remove any dirt using a soft cloth, followed by the application of a very small amount of renovating cream.